The Female of the Species: Book Review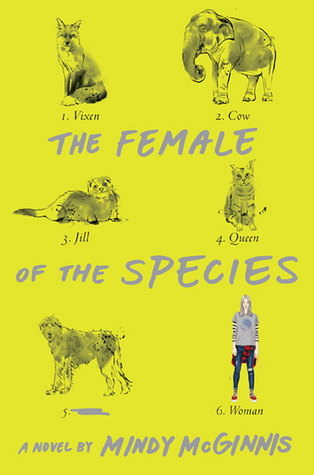 The Female of the Species by Mindy McGinnis is truly an amazing book. This book was gifted to me by my mom's work friend a little while ago. When I first saw the cover and description on the back, the book seemed boring. It took me quite a while to get around to reading it but after reading it through twice, it has become one of my top 5.
The book tells the story of a young girl, Alex Craft, whose family is going through the loss of her sister Anna. Alex seems to be rebelling against the tides of her senior year as are some of her friends. Her friend Peekay, the preacher's kid, goes through a self discovery journey as well while Jack, another friend,  is also involved in Alex's story. The connections between all of the characters give a truly moving and involving story. McGinnis throws details to the reader that you don't catch until the end.
I was on vacation when I read this book for the first time and I could not put it down and took me 3 days to finish. Every boat ride, night on the dock, or campfire, I had my nose buried in this book trying to figure the story out. It got so interesting so quick and took off to truly be a meaningful story. 
One of my biggest pet peeves in literature is when I can predict the ending. Except for romance of course. But when a story lays out a plot in a fantastical or mystery setting that I can predict before I'm even halfway done, I lose motivation really quickly. But this book threw  so many turns at me. It was a puzzle of words and a true thriller. 
I will say this book touches on some very sensitive topics but the ending is truly unpredictable and it gave me a whole new perspective on how I viewed myself and my safety in the real world. 
All in all I would definitely recommend this book to anyones who's looking for something to read over break or just in general. It's not super long and if you're dedicated, it should be a quicker read. In total, I rate it an 8.7/10. Reading this book has really inspired me to read more of her works.