My Thoughts on These Violent Delights
These Violent Delights by Chloe Gong is one of those books th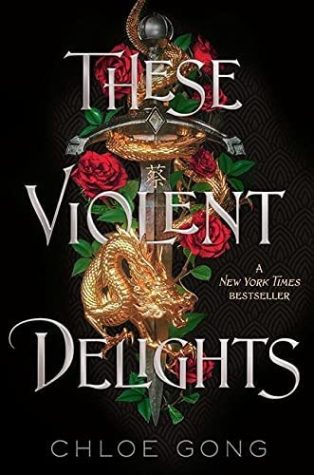 at at first, feels hopelessly frustrating, and eventually becomes hopelessly enticing. The novel is such an imaginative rendition of the classic Romeo and Juliet. The main characters, 'Roma' and 'Juliette' are heirs from 2 powerful, rivalry gangs; the Scarlet Gang and the White Flowers. The book takes place in 1926 Shanghai. A contagious madness begins to spread throughout both gangs, where members would claw their throats out, and the 2 heirs are set out to find the monster behind the insanity. The one hindrance they face is their past, when Roma was a first love for Juliette, but ended up betraying her in the value of his gang.
In all honesty, this book was an assignment for my English class; one out of multiple novels I could've chosen. Just by finding a brief overview of the book, it piqued my interest, especially the enemies to lovers trope. This book had some of the best romance tropes, like enemies to lovers, but also forbidden lovers because of the gangs' rivalry. Contrasting my original eagerness, the first quarter of the book was uninteresting. I was really questioning continuing, but what kept me going was the promise of the romance in 'forbidden lovers', one of my favorites. 
One of the most enticing parts of reading this novel was Gong's writing. It is a beautiful mix of metaphorical language and action-packed turns. She does a great job of describing the culture and history of the 1920s. I especially loved the fantastical part of the book, about the gangs, and it got even better with the plot. When Juliette and Roma delve into the mystery of the sudden deaths, there are so many unfinished ends and questions I'm beginning to think of. 
About halfway through, I was hooked into the mystery, and a little further, they finally reached the epitome of the romance we'd all been waiting for, ever since we found out about their past relationship. Unfortunately, the romance aspect was not up to my expectations. Other than mentions of their previous love affair, the so-called rekindled love between them wasn't described very well, apart form a chapter or two. You'll have to read the book to find out what their unity means for the future of the gangs, and Shanghai.
When I finished reading, I was thinking about what genre it would fall under. Personally, I feel like it was a combination of multiple; romance, fantasy, mystery, and horror. Somehow, these  worked very well together, and I was happy to get all of these genres throughout the book. If you're someone who loves a slow burn romance, this novel is a perfect read for you. This book is a captivating, dark twist on Romeo and Juliet, and even though romance fell short, the author did an excellent job of writing an invigorating piece of literature.