Senior Thanksgiving: Does It Live Up To The Hype?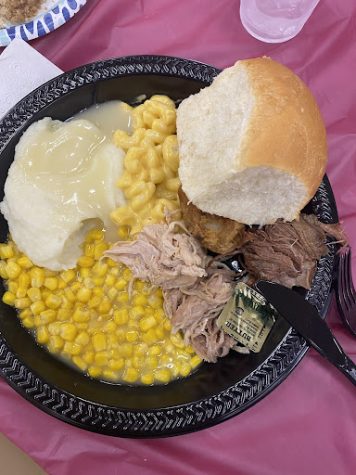 On Tuesday, November 15, OLHS held its annual Senior Thanksgiving, one of several traditions to celebrate the graduating senior class. Known for its food, catered by Der Dutchman, Senior Thanksgiving attracted more than 300 members of the senior class this year. As two members of that class, we wanted to let you know: Does Senior Thanksgiving live up to the hype?
Like any Thanksgiving celebration, Senior Thanksgiving's primary attraction was its food. Der Dutchman catered a large menu, including three meat options, green beans, mashed potatoes, macaroni and cheese, corn, rolls, salad, and numerous pie options. As a vegan option, they offered sweet potatoes, as well as apple pie. The breadth of sides and desserts made it easy to find something we liked, although the lack of vegetarian entrees was a bit of a letdown. Overall, however, the food was worth the $30 price tag (and the 1-2 hour long wait). 
To break it down a little further; between the two of us, we tried all of the main dishes (except for the green beans) and both the chocolate cream and apple pies. The turkey was the highlight of the meats, with good seasoning and just enough moisture. The chicken, while good, was difficult to eat: the piece a was given had little meat on its bones. The beef was also good, but a bit dry and overcooked. The macaroni and cheese was perfectly creamy and seasoned. Among the side dishes, the steamed corn was great; however, it lacked some seasoning. In addition, the rolls were soft and fluffy. For dessert, we tried two of the pie options. The Dutch apple pie was flavorful, with a crispy crust and overflowing filling. However, it would have been much better if served warm. Meanwhile, the chocolate cream pie was delicious, balancing the sweetness of the rich chocolate with a thick crust. 
Beyond the food, the Senior Thanksgiving had few activities to entertain the students. There was a magic mirror photo booth, stickers, and a couple of games. While these activities were enjoyable, the small number of activities compared to a large number of students left many with nothing to do while waiting for their food. Although a pie-eating contest was planned, most of the seniors disappeared immediately after eating, which made any further activities difficult. Ultimately, this contributed to a relatively disengaged atmosphere.
Despite its flaws, the Senior Thanksgiving presents a fun opportunity for students to miss class, spend time with friends, and eat some delicious food. It is a great experience for any future Liberty seniors!