Creating a Community
Looking forward to the Homecoming Bonfire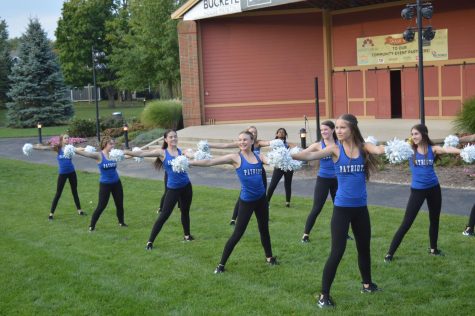 Olentangy Liberty High School's third annual Homecoming Bonfire is set to take place on Monday, September 19th from 7-9 pm at the Powell Village Green.
"The Homecoming Bonfire replaces the traditional fall pep rally," Abhinav Boda, Senior Officer for Student Council, said. "But it serves the same function: to encourage school spirit and unite the school prior to the Homecoming football game."
Three years ago, however, the Homecoming Bonfire did not exist. But the event, which was created to take the place of a traditional pep rally, shares many of the pep rally's functions. 
"The Homecoming Bonfire is important because it is a great way to honor the student body over the first couple months of school," Melissa Thomas, President of Student Council, said. "This includes hearing from the fall athletes."
In the past, these athletes have used this platform to provide updates on their team's achievements and future games. The Bonfire also serves an important purpose in preparing students for the Homecoming Dance; at the event, the Student Council will announce this year's Homecoming Court. 
"This year, there will be three male and three female nominees from the senior class," Boda said. "Students can nominate individuals to be Homecoming King or Queen by filling out an online form."
The forms, which are accessed by scanning QR codes located around the school, ask students to nominate one Senior for each position. This is a change from previous years, when a court was selected for both Juniors and Seniors. 
"Because only Senior Court nominees were honored at the Homecoming football game, it seemed unnecessary to elect juniors as well," Boda said.
Despite being an untraditional school celebration, the Homecoming Bonfire is a popular event among the student population. In fact, last year, it drew more than 350 people over the course of two hours.
"I enjoyed playing with the band," junior Shreshta Ramidi said. "It was great seeing everyone together in one place."