A Review of Tyler, The Creator's Deluxe album, The Estate Sale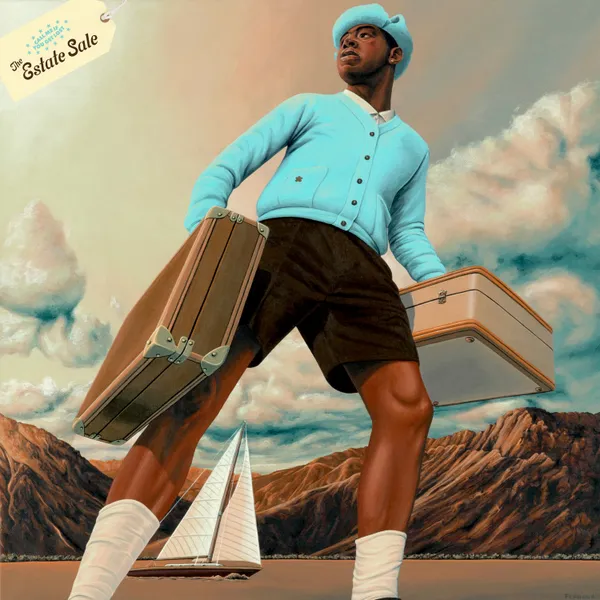 On Friday, March 31, Tyler, The Creator dropped his newest album, The Estate Sale, as a deluxe album of his award winning Call Me If You Get Lost. The songs released in the album are already being highly praised.
The tracklist goes as follows:
The original tracks from CMIYGL ("SIR BAUDELAIRE", "CORSO", "LEMONHEAD", "WUSYANAME", "LUMBERJACK", "HOT WIND BLOWS", "MASSA", "RUNITUP", "MANIFESTO", "SWEET / I THOUGHT YOU WANTED TO DANCE", "MOMMA TALK", "RISE!", "BLESSED", "JUGGERNAUT", "WILSHIRE", and "SAFARI".

"EVERYTHING MUST GO"- In this short interlude, Tyler thanks his fans for their continued support with CMIYGL.

"STUNTMAN" (feat. Vince Staples)- In this upbeat rap feature, Vince and Tyler exchange verses that brag about their wealth, fame, and influence. 

"WHAT A DAY"- This track features a much more chill melody, produced by Madlib, a famous DJ and producer who inspired Tyler as a teen. In this track, Tyler sings about the overwhelming effects of his success. This includes shallow relationships, excessive amounts of work, stress, criticism, a lack of social motivation, his fear of returning to the lifestyle of his past, and his overall exhaustion with maintaining the pressure to perform in his lifestyle. He confronts those who call him "selfish" or "egotistical" with the reality that he has always been true to himself and never been performative for fame. Finally, he stresses the importance of self-love and putting yourself first.

"WHARF TALK" (feat. A$AP Rocky)- This rnb beat explores Tyler's desire for his partner to escape with him from the uninteresting parts of life and venture with him into the unknown. He pleads for them to take a chance and get lost with him. As always, A$AP adds a satisfying verse. This song is by far one of my favorites in the album.

"DOGTOOTH"- This track was released as a single before the album was dropped. Check out

this article

for my thoughts.

"HEAVEN TO ME"- This is another chill record where Tyler reflects with satisfaction on his current lifestyle. He talks about how he has reached a point in his life where he has everything he has ever wanted. In the last bar, he says "Don't let your neighbors take you to hell, Introduce 'em to heaven," urging his fans to reach their full potential. The beat is from John Legend's "Heaven".

"BOYFRIEND, GIRLFRIEND" (feat. YG)- THIS IS MY FAVORITE SONG EVER!! This song has such a fun rhythm and the vocals are so good! Tyler sings about his desire to make his relationship exclusive and have someone to depend on when he feels alone. 

"SORRY, NOT SORRY"- In this final song, Tyler raps about different apologies he needs to give people, some being more genuine than others. He touches on his personal life implicitly in multiple lines of the song. In many ways, he calls out the people who have wronged him and made fake accusations. I think this song makes a huge impact and he addresses some very valuable points. 
Overall, I really enjoyed this deluxe album, and I believe everyone should listen to it. I hope to see Tyler release a brand new album this year as well.