My Experience in "The Great War"
How I battled in the trenches for Taylor Swift's Eras Tour ticket presale
On November 15th, I set out on a mission. A mission to get tickets to Taylor Swift's first tour in five years. The "Eras Tour", which would be her sixth headlining concert tour, was announced on November 1st. Having not toured for her four recent studio albums Lover, Folklore, Evermore and her latest, Midnights, plus the two rerecords she released of her albums Fearless and Red. Loverfest, the concert tour planned for her 7th studio album was canceled due to COVID, so many fans have been waiting for this tour for a long time. 
I have never been to a Taylor Swift concert so when she announced the Eras Tour, I was ecstatic. I immediately plotted which concert to go to, taking the openers, locations, and dates into account. I settled in Philadelphia on May 13. This date had many great qualities, Phoebe (PEEBEE) Bridgers was opening (NOTHING NEW LIVE ARE YOU KIDDING ME?!?!?!) and my cousin lives in Philly so we would be able to go together, and the best bonus of all, the concert would be on the 13th which we all know is Taylor's favorite number.
The day she announced the tour, I rushed to ticketmaster to see a hour plus line just for presale. I, of course, waited in it because I would do anything for Taylor. After submitting my Verified Fan presale allI could do was wait and hope that I would be picked. 
Then there was good news. I received an email from Taylor Nation saying I was boosted in line for being a "loyal fan" (how does one even measure the loyalty of a fan?). This gave m e hope, I was going to get tickets.
Finally presale-eve was upon us, I decided I was going to stay home until I got tickets and then I would go to school after. I thought it would take 2 hours max. I made the plan to try and get lower bowl seats around the B-stages, knowing it would be the closest I could get to Taylor without being on the floor. 
I woke up at around 8 to get ready for the battle. I made sure I had everything prepared, my computer was charged, I had my Taylor Swift prayer candle out, and I was decked out in merch. I was ready. I logged into Ticketmaster around 9:30 AM, finding out after the fact that if I had logged on just a minute or two after I would not be able to actually get onto Ticketmaster. I waited and waited and waited until finally 10 AM rolled around and it was go-time.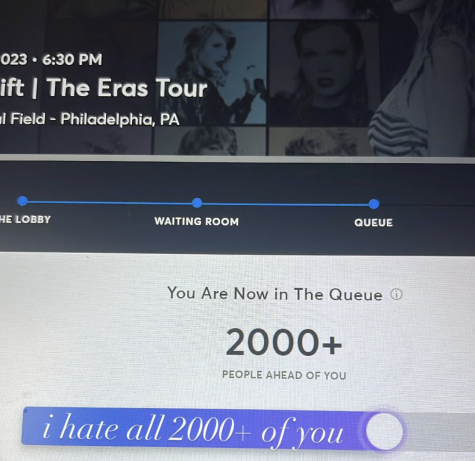 I waited for the page to refresh to be let into the queue, and nothing happened. I waited for 30 sec until I finally was put into line with a whopping 2000 plus people ahead of me (I hate all 2000+ of you!). I was still optimistic until I realized that when it said 2000+, there was an emphasis on the plus. After about an hour I was halfway through the line. There was hope! Then for the next hour and a half, the line didn't move once. At this point I was a wreck. As I held on to my last shreds of hope I put on Glee and hoped for the best. Somehow, the powers of Glee helped the line move forward (at least that's what I am telling myself). 
I finally reached the end of the line four very long hours after I started. At this point it was 2 PM so I had missed a whole day of school, so I was hoping I would get tickets so I had something to show for it. The website loaded and then… it said there was a glitch (Midnights 3 AM version??) and there was a button to rejoin the queue. This was my downfall, I had nothing left. I re-entered the line with 2000+ more people ahead of me. 
At this point, you're probably saying "what is wrong with you Natalie? Why do you care so much about getting tickets". I care because I have been waiting for this my whole life. I didn't start going to concerts until last year, with the exception of my first concert (I love you Pentatonix), so this was my first chance to see Taylor live and I had failed. 
So no, this story did not have a happy ending. I did not survive 'The Great War'. My only chance to get tickets after failing was the general admission sale 3 days after the presale started. However, the last shred of hope I had left was destroyed by Ticketmaster canceling the sale the night before (I HATE TICKETMASTER).
If anyone got tickets to the Philadelphia May 13th show, please consider gifting them to me (I'm willing to pay the big bucks but not as big as the resellers are selling them for. $2000 nosebleed tickets is crazy).