Sidekicks Frozen Juice Cups Ranking (Best to Worst)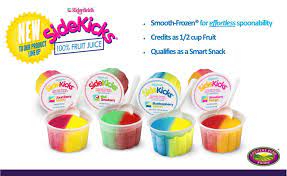 Sideicks are frozen ice treats available at the cafeteria. They are infamous for being one of the best things offered in the whole cafeteria. We wanted to share more about them and recommend which ones to get. 
Halloween edition "EEK" – This was by far the best tasting Sidekicks juice cup. It was orange creamsicle flavored meaning half of the cup had an orange flavor and the other had a vanilla flavor. The flavors compliment each other very well and it was super tasty which is why it's number one.

Valentines edition – This was a close second to the halloween edition. Its flavor was strawberries and cream so instead of an orange side it was strawberry. Personally I love strawberry, but the reason it's not number one is because the strawberry flavoring tasted too artificial to me.

Christmas edition "Jolly"- The Christmas edition was surprisingly good. I did not know what the flavors were for each side of the frozen juice cup but I would say it tasted like sweet tarts and grape jolly ranchers. The reason I ranked this in the third spot is because while it was really good, it was a little too sweet for me.

Strawberry Kiwi- This classic flavor is definitely the best of the normal non-special edition ones. The flavors go well together and it's not too sweet which is why I'm ranking it fourth

Blue Raspberry Lemonade- This flavor is honestly very average. The lemon is too sour and I don't care for it much. The only reason it's not last is because the blue raspberry is pretty good. 

 Strawberry Mango- This is by far my least favorite flavor out of all of the Sidekicks. The artificial mango and strawberry flavors do not go well with each other and overall is not very good, because of this I have ranked it last.