Liberty takes fall against Steubenville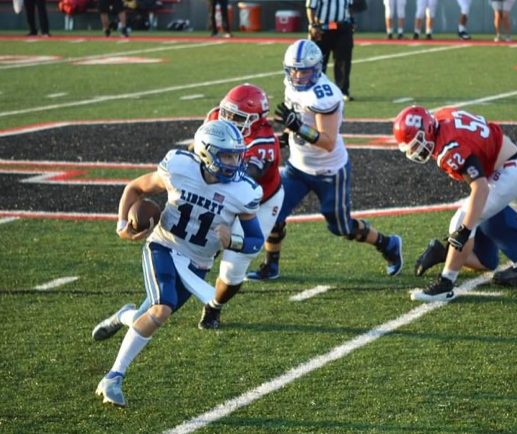 Liberty's first football game of the season didn't go as planned. The team took a loss against Stubenville 22-7. The game started with an early Steubenville touchdown but Liberty soon contested with a touchdown pass from Sophomore quarterback J.J. Sebert to Senior wideout Chase Brecht. Unfortunately, Liberty couldn't bounce back as Steubenville put 16 on the board unanswered. Liberty had four turnovers which ultimately led to their loss.
"I thought we had a great chance going in but things just didn't go our way. We might have underestimated them a little as well." Senior safety Patrick Duggan said about the outcome of the game.
The Patriots got to play in a stadium that sat over 7,000 people, with a larger-than-life metal horse dubbed "Big Red" that breathes fire every time a team scores. This experience was game-changing for the team, Senior safety Collin Mulder shared his experience at Steubenville high school's football stadium:
"Running out of the tunnel onto the field was surreal. Seeing all those people and playing in such a big stadium is an experience that I will never forget," 
The first game didn't go Liberty's way but the team seems very optimistic heading into next week as it will be the team's first home game against Glenville. Go Patriots!