Biden's First 60 Days- An analysis
Despite inheriting a country in chaos, Biden's first 60 days as President have been full of many successes… but also some overly ambitious failures. Read on for an analysis of President Biden's first 60 days.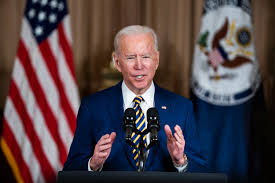 When President Biden first took office, he inherited a country in chaos: COVID-19 had taken nearly 80,000 lives in January alone, the economy was under strain, and social justice issues in the country had boiled over. In addition to the already insurmountable political pressure put on the United States following the Capitol Riots, Biden was tasked with bringing together a country heavily divided following the election and departure of former President Trump. 
Throughout his presidential campaign, Biden promised a variety of policies and actions to take place during his first 100 days. Thus far, he has made significant progress on nearly all of them, including rejoining the Paris Climate Accord, revising deportation criteria, passing a new stimulus package, and increasing access to vaccinations across America, just mere days away from surpassing his goal of 100 million vaccinations. 
Despite the current state of the country, President Biden has secured a nearly 54 percent approval rating thus far. Though this number is more than ten percent higher than former President Trump's approval rating around the same time, it is surprisingly lower than past presidents. According to Gallup Polls, the past 12 presidents (from Obama to Truman) all had higher ratings in their first three to six months as president. The reason? The current political climate of the United States, despite Biden's national calls for unity, is increasingly polarized. Even in the Senate, where the Democrats now hold a narrow majority (through Vice President Harris' tie-breaking vote power), major decisions such as the stimulus package are split along party lines. To add to this, nearly 70 percent of Republicans felt that the 2020 election was not free, fair, or accurate, according to a Morning Consult Poll following the election. 
President Biden's first 60 days have in many ways been history-making. Thus far, he has signed over 37 Executive Orders, more than any other American president in their first months. President Biden has been increasingly progressive in policies as well, passing a record number of orders aimed at improving LGBTQ+ rights, the environment, voting access, and addressing medicare and immigration issues. 
But the new President has not been met with a lack of criticism. Since former President Trump's leaving of office, attempted border crossings have increased to a nearly 20 year high, according to Homeland Security Secretary Alejandro Mayorkas. Biden's approach has been starkly different than that of his predecessor. On Inauguration Day, President Biden signed five executive orders surrounding immigration, changing requirements for unaccompanied minors and attempting to speed up the immigration and citizenship process. His administration has had a more "open arms" approach to immigrants at the border and looks more favorably on immigration as a whole.  Though his administration refuses to address the situation head-on as a crisis, the situation at the border has the ability to completely undermine Biden's presidential record thus far. 
Border crossings aren't the only source of Biden's criticism on immigration/deportations, however. In February, the president received waves of criticism from Black lawmakers after hundreds of deportations sent migrants back to war-torn countries such as Haiti and African nations. According to the Washington Post, these countries have recently been rampant with fighting and constitutional crisis. Many women and children have been sent back to these countries after seeking refuge in the United States. President Biden attempted to pause the majority of deportations happening on U.S. soil in late January, but his efforts were thwarted by a federal judge. These deportations will continue to affect the Biden presidency until he makes much-needed changes to immigration policies that will include these migrants.
Though the situation at the border is a difficult one, Biden still has an opportunity to end his first 100 days as president as a success. The recent $1.9 trillion American Rescue Act of 2021 is full of aid and benefits that will prove to be beneficial to both Americans and the presidency as a whole. If used correctly, this stimulus package will give the economy a much-needed boost as businesses and schools around the country begin to operate at a nearly pre-pandemic capacity. 
As a whole, Biden's first 60 days as president have been a success. Surpassing his already ambitious goals to get over 100 million vaccines in arms and 150 million checks in pockets, Biden made substantial progress through his numerous executive orders improving the environment, LGBTQ rights, immigration reform (despite an overflowing border crisis), and more. With the economy's fate in the hands of the recent stimulus package, the Biden Administration has the capability of making a long-lasting legacy and an ambitious start to the presidency.