Track review: Frank Ocean's "Dear April" and "Cayendo"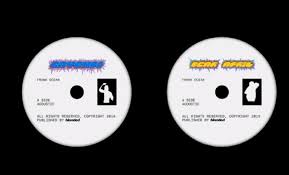 Singer, songwriter, and producer Frank Ocean has blessed his fans during these rough times with two new tracks: Dear April, and Cayendo. These two tracks were leaked by Frank Ocean fans as snippets last October after they were unveiled at one of Frank's PrEP+ parties in New York. 
Soon after, Frank Ocean released these two tracks on vinyl on his Blonded website. Close to 6 months later, Frank Ocean has released the tracks on streaming platforms.
Dear April
During such an isolated time, it's only fair that Frank Ocean releases a song to soundtrack these coming weeks. Although only the acoustic versions of these songs are available, this emotional love ballad sounds awfully electronic. Over a slow, pitched-down guitar and what sounds to be a synth-bass, Frank explains to his lover that their relationship together won't ever be the same. Frank calls out to "April," "Are you watching him? Are you watching him dance?" This could be asking numerous things. Frank could be asking his ex-lover if they're watching Frank closely to be sure he is ok. Frank could also be asking this person if they are watching someone else, when they should be watching him. Overall, this track is very emotional and I think Frank does a good job at setting the scene for this heartfelt ballad. My only issue with this song is that there is no big vocal climax, I feel like Frank leaves the listener on an emotional cliffhanger.
CAYENDO
In this spanish and english mixed track, Frank is calling out to his significant other, professing his love to them, but it seems they don't feel the same way. Compared to Dear April, this track is much more acoustic. This minimalistic track features nothing more than an electric guitar and Frank's voice. He asks "Si puedo soportar lo que siento, ¿por qué me 'toy cayendo?" which translates to "If I can stand what I feel, why am I falling?" Frank is acknowledging that this is a one-sided relationship, but he still can't accept it. This is hurting him a lot, hence him "falling." I really like this track, I think the minimal editing in his voice wasn't a very good idea, at one point during the song you can hear Frank clear his throat. Maybe he was going for a very raw recording session sound for this track but I wasn't a big fan of that. I think lyrically it's a little more clear what he is trying to say, when translated to english of course.
These two new tracks from Frank Ocean were much needed, especially during such a strange and confusing time for everyone. Overall, these two tracks were very emotional and I think they do an amazing job of telling a story. Of course Frank has always been able to make the listener feel emotions through his music, but I found with Dear April and Cayendo he did an exemplary job at doing so. 
Dear April: 7.5/10
Cayendo: 9/10
About the Writer
Ben Burton, Staff Writer, Photographer
Ben is a senior at Liberty and this is his 3rd year writing for the Patriot Press. Ben is also an Editor-In-Chief of The Cannon, and enjoys writing about...