How COVID-19 is Beginning a Discussion on Class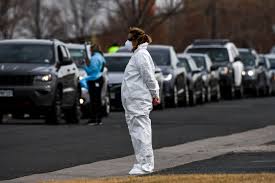 When the news broke on March 12th that Tom Hanks and his wife Rita Wilson were infected with COVID-19, it seemed as if the pop-culture world stopped spinning for a moment. Many people who had been previously uninformed about the virus were finally struck with its severity upon hearing that Hanks was infected. Since then, many more celebrities have been infected with COVID-19 and many more continue to get tested. While the number of celebrities being tested is helping spread awareness for the virus, it is also opening up a conversation about class and what it takes to get tested.
Typically, the test for COVID-19 involves taking swabs from a patient's nose and throat and checking for the genetic pattern of the virus. Developed quickly after the virus became an international issue, this invasive test is only available to a select few. The availability and methods of testing are different around the world and even vary within the United States. As of April 3rd, there are 95 public health laboratories that can provide tests in the USA and its territories. Some states like New York have made it so people don't have to pay for their tests. But even where it's not necessary to pay for tests, low-income people with poor or no insurance still struggle to find good medical care in the face of this pandemic.
The CDC issued criteria that would guide doctors in determining who would be a priority for testing. The groups are priority one, two, three, and non-priority. Priorities one through three suggest that people with symptoms or people who are at risk be given tests. The non-priority category includes all who want to get tested who do not show symptoms and aren't at risk. Yet while the CDC strongly suggests these criteria, there are still people slipping through the cracks. The NBA is getting some push back from people who are angry that an entire team like the Utah Jazz can afford to get tested when most players didn't even have symptoms, as opposed to the many clinically ill people unable to get tested. 
The class issue also expands past the availability of tests as many minimum wage workers are at the front lines of the economy. While many "non-essential" workforces have been closed, a number of low paying jobs remain functioning to keep society running. Many grocers, retail workers, and even transportation workers are forced by employers or financial instability to maintain working despite an elevated risk to the virus. Of course, there are thousands of health care workers risking their lives to protect the public, but many of them don't have to worry about money in the same way low-income citizens do. 
About the Writer
Catherine Christy, Co-editor-in-chief
Catherine Christy is a Junior at Olentangy Liberty High School. This is her second year writing for the Patriot Press. She has been involved in journalism...