Josh Speidel Makes Senior Night Debut Five Years After Potentially Fatal Accident
via University of Vermont Basketball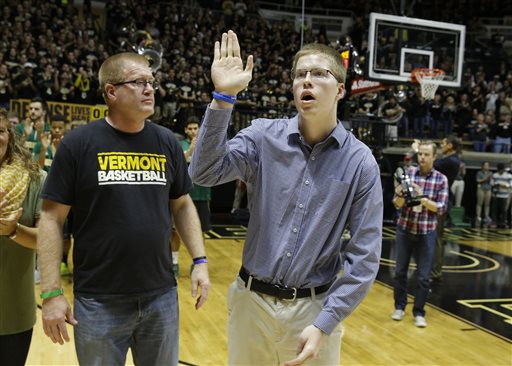 No platform brings in more feel-good stories than sports; as such was prominent last night during the University of Vermont's senior night. 
Five years ago, three-star recruit Josh Speidel was involved in a car accident that gave the stand-out star a traumatic brain injury. He had never been able to live out his dream of playing D1 basketball until last night, when the senior got his first career start. In a prearranged moment with the University of Albany, Speidel scored the Catamounts' first points on a layup 20 seconds into the game. Play immediately stopped, Speidel came out of the game, receiving hugs and applause from both sides as he came out of the game.
"I did it, I'm a college basketball player," Speidel said after the win, "I scored in a college basketball game. You can't take that away from me. I'm just so forever grateful." 
Speidel claimed that he wanted to miss his first shot to make his stats look better with an offensive rebound tacked on, but "[he] figured [he] might as well go 1-for-1 and shoot 100% in [his] college career." 
Before the accident, Josh was a standout highschool player, averaging over 28 points per game in his hometown of Columbus, Indiana. After the crash, Josh was put into a coma for five weeks, and very close to losing his life. His parents were warned that he would live in a 24-hour vegetative state for the rest of his life, never being able to read above a fourth-grade level. Josh was a four on the Glasgow coma scale, which entails how serious a brain injury is. Anything eight and below is considered a "severe head injury". Currently, Josh is on pace to graduate from Vermont with a 3.4 GPA.
Five years exactly from Speidel's senior night was the first time that Speidel was able to lift himself up to hug his mother. Five years later, he was able to hear his number called in the player intros. 
"It's a dream come true to look in the box score seeing No. 32, Josh Speidel. It's a dream come true, and I couldn't be more happier," Josh stated.
About the Contributor
Jacob Myers, Sports Writer
Hi, I'm Jacob Myers, a Senior here at Liberty. I'm a proud Browns, Cavaliers, and Buckeyes fan. You'll see me write about sports on here, and I hope you...