Buying and Selling NBA Teams in late February/ Mid Season Award Predictions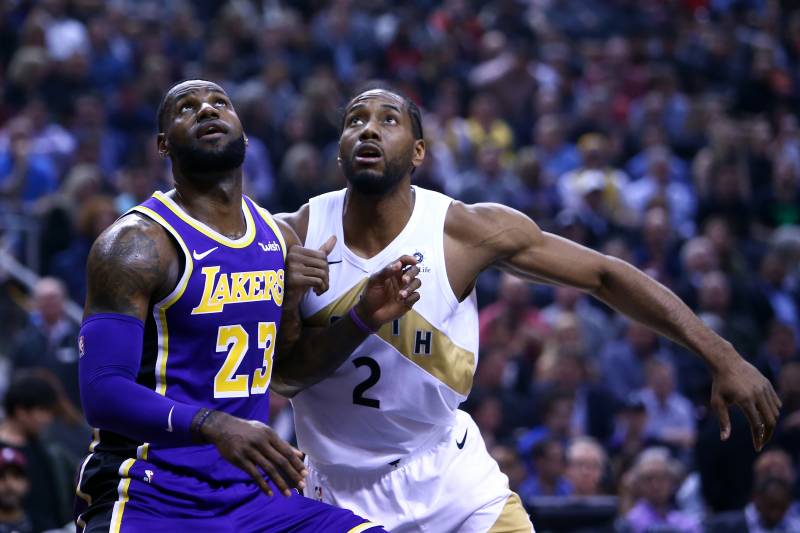 Buying and Selling NBA Teams in late February/ Mid Season Award Predictions
Milwaukee Bucks – Buy: The Bucks have posted the best record in the NBA until this point and may have the best player. Giannis Antetokounmpo is looking like he'll win back to back MVPs for the first time since Curry in 2015 and 2016. I would pump the brakes a bit on this team because of the lack of a second true star. Middleton is a nice player, but can't be counted on to take over the game if something were to happen to Giannis. 
Playoff Prediction: NBA Finals
Los Angeles Lakers -Buy: This Lakers team has completely turned it around this year by simply giving Lebron James what he needs: a second star and shooter on the perimeter. Although they are my favorite in the west, I would buy them with slight caution. LA's offense completely disintegrates when James is off the floor even with a transcendent talent like Davis. The Lakers' big man has also shown struggles in crunch time, averaging just 4 points per game in the fourth quarter this season which ranks 60th among active players. I buy this team as long as AD can give James the assistance he needs. 
Playoff Prediction: NBA Finals 
Los Angeles Clippers -Buy: I think this is a clear 'Buy' for most. The Clippers have the star power they need and the bench to go along with it. This squad has real potential to make a deep run into June. Also, when their whole team is healthy, they haven't lost a game this year.
Playoff Prediction: Western Conference Finals
Boston Celtics – Buy: The Celtics are Milwaukee's biggest threat to the East's crown. Boston is the only team in the NBA with three starters averaging double digits in points. With the absence of Kyrie, this team has really blossomed, especially Jayson Tatum. 
Playoff Prediction: Eastern Conference Finals 
Philadelphia 76ers – Sell: The first 'sell' on the list goes to Philadelphia. This team has the star power and the pieces they need to win this thing, but the injuries to their top two players: Simmons and Embiid will ultimately hold them back this year. Believe me when I say this, a trade involving one of their stars is becoming increasingly likely. The front office will get antsy after yet another disappointing playoff run. Also, they lost badly to the Cavs. That's all you need to hear.  
Playoff Prediction: Second round exit
Utah Jazz – Sell: The Jazz are a sell here primarily because they don't have enough talent to get through the playoffs. Acquiring Mike Conley was a good start to building something in Utah, but his recent poor play has led to rumors of his benching, which is not good. I don't believe this team has what it takes to even win a playoff series. 
Playoff Prediction: First round exit 
Houston Rockets – Buy: Unlike most people, the Houston Rockets are a real contender in this year's playoffs. Houston has made small ball even smaller by trading Clint Capela and eliminating a center from their offense. This move makes them more versatile, and gives them more shooters on the outside. Since making this move, the Rockets are 5-0 and have won their last three by double digits. The biggest knock on this team is that Westbrook and Harden won't work well together. But, in my opinion, just the opposite. Call me crazy, but the future of the NBA could look exactly like the new and improved Houston Rockets.
Playoff Prediction: Second round exit 
Dallas Mavericks – Buy: This Dallas team is one of my favorites. In a couple years, Luka has potential to really take over the league and win multiple championships. But for now, this team is too young and lacking another piece.
Playoff Prediction: First round exit 
Toronto Raptors – Sell: This Raptors team has achieved far more than anyone could have imagined up until this point. The rental of Kawhi Leonard gave them a title but because of his decision to bolt for L.A., it has left the Raps without a true star. Many may stick up for the rising Congo native Pascal Siakam, but it is just too early to rely on him. 
Playoff Prediction: Second round exit 
Miami Heat – Sell: I will start off by saying this: Miami is a team that in my mind came out of nowhere. The bad thing about this squad is it's pretty much Jimmy Butler, Bam Adebayo, and cross your fingers for a good shooting night. Miami will be a flop in this year's postseason, but another great summer like last, and they will be contending for Finals to come. 
Playoff Prediction: First round exit 
Brooklyn Nets – Sell: No KD and No Kyrie. They will compete next year but for now, the case is closed. 
Playoff Prediction: First round exit or miss playoffs 
Denver Nuggets – Buy: The Nuggets are the best young team in the NBA. They have just one role player over 30 (Paul Millsap) but come May and June, this will not work in their favor. A team with little to no playoff experience (Just last year) will struggle against teams with years and years of Playoff games under their belt. The Nuggets are a solid pick to make a run into the second round this year, but not much more. The development of Murray and Nikola Jokic will start to really flourish in the coming years. Look for Denver to run the west in the coming years along with the Clippers. 
Playoff Predictions: Second round exit 
Oklahoma City Thunder – Buy: After trading the rights to Russell Westbrook last summer and acquiring over 10 total draft picks for the coming years, the Thunder were destined for a tank season. But with Chris Paul making his first All-Star selection since 2016, he was determined to not let that happen. The duo of Paul and Shai Gilgeous-Alexander has given the Thunder all they need to prepare for the future and make a run. I'm not buying this team to make a finals run but they can definitely steal a couple games in the first round. 
Playoff Prediction: First round exit 
Award Predictions:
Most Valuable Player: Giannis Antetokounmpo 
Rookie of the Year: Ja Morant 
Defensive Player of the Year: Anthony Davis 
Most Improved Player: Luka Dončić
Sixth Man of the Year: Lou Williams 
Coach of the Year: Mike Budenholzer