Hattie McDaniel; Paving the path for a hopeful future in Oscar and media representation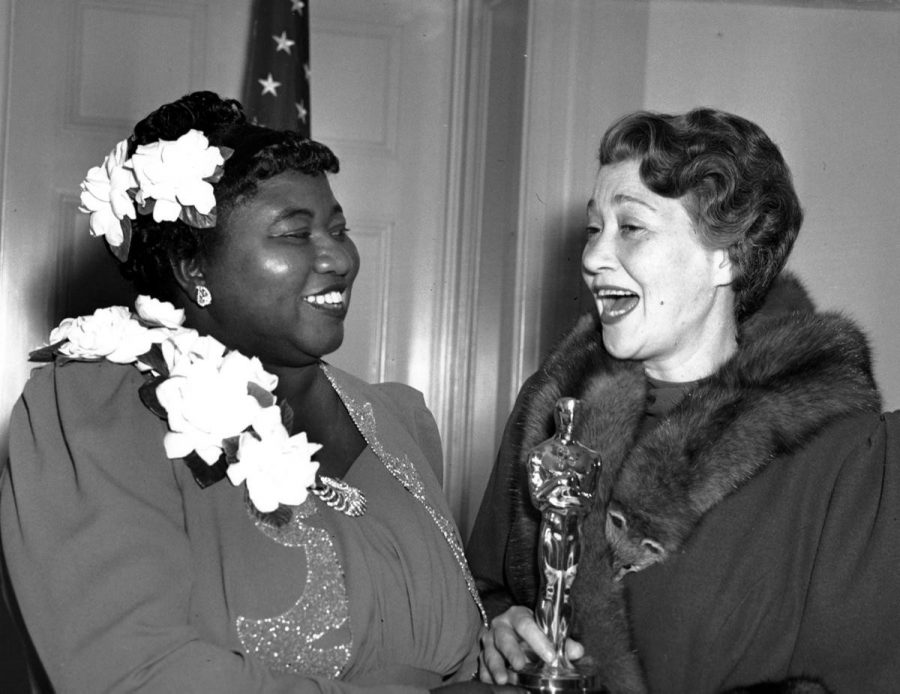 With the Academy Awards earlier this month, films were praised for their cinematography, cast, storyline, etc. And while not having any host for this year was an idea gladly accepted by many, Chris Rock made a, although comedic, significant point during the opening monologue at the Oscars. This year, the number of black nominees hit a three year low, as Cynthia Erivo, who was nominated for best actress in her role as Harriet Tubman in "Harriet," was the only black acting nominee.
Many were quick to call out the many exceptional performances of people of color who were not recognized. From Lupita Nyong'o in "Us" to Jamie Foxx in "Just Mercy," Oscar voters felt that there was an enormous amount of black talent missing from the slate of nominees. 
In 2015, every actor that was nominated in the acting categories was white, which initiated the #OscarSoWhite movement. This movement clarified that the Oscars play a central role in sharing representation in film, and have the responsibility to do so. 
Historically, 14 black actors and actresses have won Academy Awards, and the first-ever to do so was Hattie McDaniel in 1940 for her portrayal of the character Mammy, a slave at the southern plantation in the film "Gone with the Wind." 
McDaniel's story is not as simple at this, however, because before becoming an actress in Hollywood, she performed all over the entertainment field. 
McDaniel grew up in a musically and theatrically inclined family, and this launched her into performing with her father's minstrel troupe. This type of entertainment was typically for white audiences due to performers mocking African American cultural life. In furthering her career, by the mid-1920s she was one of the first African American women to perform on radio. 
During the hard economic times of the Great Depression, McDaniel struggled to find work. She traveled to Wisconsin and came upon a club, where she first worked as a bathroom attendant but shortly after became a performer there. 
McDaniel's brother and sister convinced her to move to Hollywood to pursue a career in acting. By 1935, she was cast in her first movie, "The Little Colonel" as Mom Beck, a role she had to play as a happy servant in the old south. After the movie was released to the public, many African American journalists disapproved of her role as a "happy" servant. For McDaniel, this movie also marked her feud with the progressiveness of the African American community. 
After her movie debut, in 1936 McDaniel appeared in 12 films, and over the decade she had 40 performances in films, but nearly all of them were as roles of a maid or cook to a white household. 
In 1939 when she won the role of Mammy in "Gone with the Wind" over other competing actors, the NAACP was not content. Although the black press saw her Oscar win as a symbol of progress, members of the NAACP felt the role she played was not. 
This conflict continued to grow throughout the 1940s between McDaniel and activists as they viewed her career and what her roles stood for to be damaging to the fight for civil rights. She combated these allegations by explaining she had the right to choose whatever role she deemed fit, and they were shown to be equal to their white counterparts in the films. However, as the feud grew stronger, McDaniel's on-screen opportunities started to disappear. 
Hattie McDaniel as the first African American to win an Oscar set the pathway for the 13 others to follow. She walked into her producer's office and showed him the "Gone with the Wind" reviews. Her role as Mammy was positively critiqued by the press, and her producer then sent her role for a nomination. 
McDaniel's desire to be recognized for her performance brings the topic of today's conflict with the lack of appreciation of diversity in film. Just as she noticed the approval she received from her role, many actors and actresses went unnoticed for performances deemed Oscar-worthy by the press in 2020. McDaniel would have not been allowed in the segregated hotel if her agent had not worked to have her in attendance, and she also had to sit at a table in the corner of the room. It was also clear she had won because a list of the winners was leaked prior.
The underrepresentation of people of color in Oscar nominations is also similar to the danger of the media creating a distortion of minority families. Unfortunately, this is easily overlooked by people because the distortion, which are then converted into stereotypes are truly believed by many.  
About the Writer
McKenna Christy, Co-editor-in-chief
McKenna Christy is a junior at Liberty and this is her second year writing for the Patriot Press. She enjoys writing about and for the community along...