Preston Oliver's 2020 NFL Mock Draft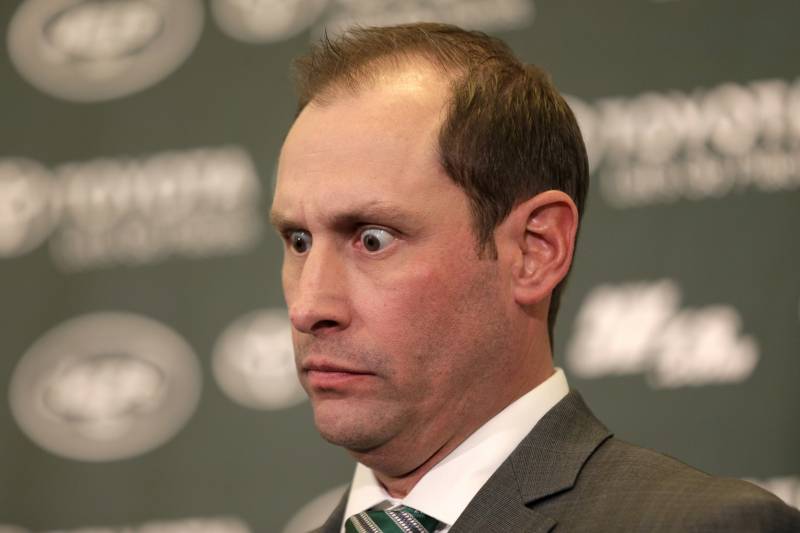 The Jets are never in the playoffs, so it's never too early for Mock season. Stay tuned for my official three round mock draft dropping April 24th. 
Round 1
Bengals- Joe Burrow, QB, LSU

:

The Bungles are in desperate need of a franchise passer. This is a no- brainer. 

Redskins- Chase Young, DE, Ohio State:

Another no brainer here. Chase Young might be the best player in this draft. 

Lions- Jeff Okudah, CB, Ohio State:

Another great corner coming out of Ohio State, I think he is a lock to go here. 

Giants- Jerry Jeudy, QB, Alabama:

It pains me to put a game-changing receiver such as Jeudy on the Giants when the Jets are lining up undrafted free agents at Wideout. Jones to Jeudy. Get used to that. 

Dolphins- Tua Tagovailoa, QB, Alabama:

The Dolphins desperately need a QB, and they will rush this pick to the stage. 

Chargers- Justin Herbert, QB, Oregon:

They just moved on from Rivers, so they are now a QB needy team. 

Panthers- Derrick Brown, DT, Auburn

: They have options at QB via free agency so they will go with Brown here. 

Cardinals- Andrew Thomas, OT, Georgia

: Cardinals need to protect Kyler despite the trendy Ceedee Lamb pick. 

Jaguars- Isaiah Simmons, LB/S, Clemson:

3 words here. Best player available. 

 

Browns- Jedrick Wills, OT, Alabama:

Browns need offensive line here, and they'll take the athletic tackle from Alabama. 

Jets- Tristan Wirfs, OT, Iowa:

Odds are the Jets will get the offensive line leftovers, but it wouldn't surprise me if they went receiver or pass rusher here too. 

Raiders- Ceedee Lamb, WR, Oklahoma:

He might have the most upside out of all receivers and Jon Gruden will snatch him. 

Colts- K'lavon Chaisson, EDGE, LSU:

I think Chaisson is going to be someone who impresses scouts at the combine and he will move up on people's boards. 

Buccaneers- Austin Jackson, OT, USC:

They are desperate for an offensive lineman and will reach for a guy like Jackson. 

Broncos- Henry Ruggs lll, WR, Alabama:

Elway gives Drew Lock another weapon alongside Cortland Sutton. Ruggs might be the fastest player in the draft. 

Falcons- A.J. Epenesa, DE, Iowa: Dann Quinn gets another chess piece for his defense. 

 Cowboys- Grant Delpit, S, LSU:

Perfect fit here for the Cowboys. LSU traditionally develops great NFL defensive backs, and Delpit is next in line.

 

 Dolphins- Mekhi Becton, OT, Louisville:

Miami needs to bolster the offensive line to protect Tua and a future running back. 

Raiders- Kristan Fulton, CB, LSU:

Gruden gets a top pass catcher and a top DB. They are killing the first round. 

Jaguars- Trevon Diggs, CB, Alabama: The Jags aim to replace Jalen Ramsey with Diggs, who was solid at Bama. 

Eagles- Tee Higgins, WR, Clemson:

This is a no-brainer here. The Eagles can't keep running practice squad receivers at WR1. 

Bills- Laviska Shenault, WR, Colorado:

Josh Allen gets a dangerous weapon to complete the receiver core.

 

Patriots- Javon Kinlaw, DT, South Carolina:

They will snag the best player available here. Kinlaw should rotate in with that D-Line nicely. 

Saints- C.J. Henderson, CB, Florida:

Aside from Marcus Lattimore, the Saints secondary is stinky. 

Vikings- Kenneth Murray, OLB, Oklahoma:

They have some solid pass rushers on the D-Line but they need a speed rusher off the edge. 

Dolphins- Johnathan Taylor, RB, Wisconsin:

The Dolphins could slowly build up a dangerous offense. 

Seahawks- Terrell Lewis, EDGE, Alabama:

You can never have too many edge rushers. 

Ravens: Yetur Gross-Matos, DE, Penn State:

Again, you can never have too many edge rushers. 

Titans- A.J. Terell, CB, Clemson:

Corners are important, and if Tennessee wants to compete for Super Bowls they are going to need to cover Deandre Hopkins and Tyreek Hill. 

Packers- Jalen Reagor, WR

TCU:

Rodgers needs another weapon. 

49ers- Xavier Mckinney, SS, Alabama:

The 49ers secondary needs more depth. 

Chiefs- D'Andre Swift, RB, Georgia:

They will add some more RB depth as I expect Shady Mccoy to retire. 
Round 2
Bengals- Justin Jefferson, WR, LSU

Colts- Tyler Biadasz, OC, Wisconsin

Lions- Curtis Weaver, EDGE,Boise State

Giants- Julian Okwara, EDGE, Notre Dame

Chargers- Bryce Hall, CB, Virginia

Panthers- Neville Gallimore, DT, Oklahoma

Miami- Josh Jones, OT, Houston

Cardinals- Matt Peart, OT, Uconn

Browns- Marlon Davidson, DE, Auburn

Jaguars- Tyler Johnson, WR, Minnesota

Bears- Albert Okwuegbunan, TE, Missouri

Colts- Jacob Eason, QB, Washington

Buccaneers- Prince Tega Wanogho, OT, Auburn

Broncos- Isaiah Wilson, OT, Georgia

Falcons- Cameron Dantzler, CB, Mississippi State

Jets-Michael Pittman Jr, USC:

Pittman reunites with Darnold and will start immediately. 

Steelers- Jake Fromm, QB, Georgia

Bears- Jalen Hurts, QB, Oklahoma

Dallas- Jaylon Johnson, CB, Utah

Rams- Jabari Zuniga, EDGE, Florida

Eagles- Troy Dye, LB, Oregon

Bills- Terrell Lewis, OLB, Alabama

Falcons- Patrick Queen, LB, LSU

Dolphins- Zach Baun, LB, Wisconsin

Texans- J.K. Dobbins, RB, Ohio State

Vikings- Jeff Gladney, CB, TCU

Seahawks- Anfernee Jennings, OLB, Alabama

Ravens- Lynn Bowden Jr, WR, Kentucky

Titans- Bradlee Anae, DE, Utah

Packers- Malik Harrison, ILB, Ohio State

Chiefs- Noah Igbinoghene, CB, Auburn

Seahawks- Trey Adams, OT, Washington
Round 3
Bengals- Rashard Lawrence, DT, LSU

Redskins- Ashtyn Davis, S, Cal

Lions- Lamar Jackson, CB, Nebraska

Jets- KJ Hamler, WR, Penn State

Panthers- Brandon Jones, S, Texas

Miami- Harrison Hand, CB, Temple

Chargers- Justin Madubuike, DT, Texas A&M

Cardinals- Netane Muti, OG, Fresno State

Jaguars- Harrison Bryant, TE, FAU

Browns- Matt Hennessy, OC, Temple

Colts- Nick Harris, OC, Washington

Buccaneers- Calvin Throckmorton, OT, Oregon

Broncos- Erza Robinson, CB, Tennessee State

Falcons- Khalid Kareem, EDGE, Notre Dame

Jets- Yasir Durant, OT, Missouri

Raiders- Jacob Phillips, ILB, LSU

Raiders- Logan Stenberg, OG, Kentucky

Cowboys- Devin Duvernay, WR, Texas

Broncos- Michael Pinckney, OLB, Miami

Rams- Cole Kmet, TE, Notre Dame

Eagles- Sanford Samuels, CB, FSU

Bills- Benito Jones, DT, Mississippi State

Patriots- Denzel Mims, WR, Baylor

Saints- Shaquille Quarterman, ILB< Miami

Vikings- TJ Mccoy, OC, Louisville

Browns- Brycen Hopkins, TE, Purdue

Raiders- Eno Benjamin, RB, Arizona State

Ravens- Brandon Aiyuk, WR, Arizona State

Titans- Darryl Williams, OG, Mississippi State

Packers- Gabriel Davis, WR, UCF

Broncos- Lucas Niang- OT, TCU

Chiefs- Damon Arnette, CB, Ohio State
About the Writer
Preston Oliver, Sports Editor
My name is Preston Oliver and I am a sports editor for the Patriot Press. I play football and run track for Olentangy Liberty. In my free time, I love...