New Hampshire Primary: Results, Reactions, and Responses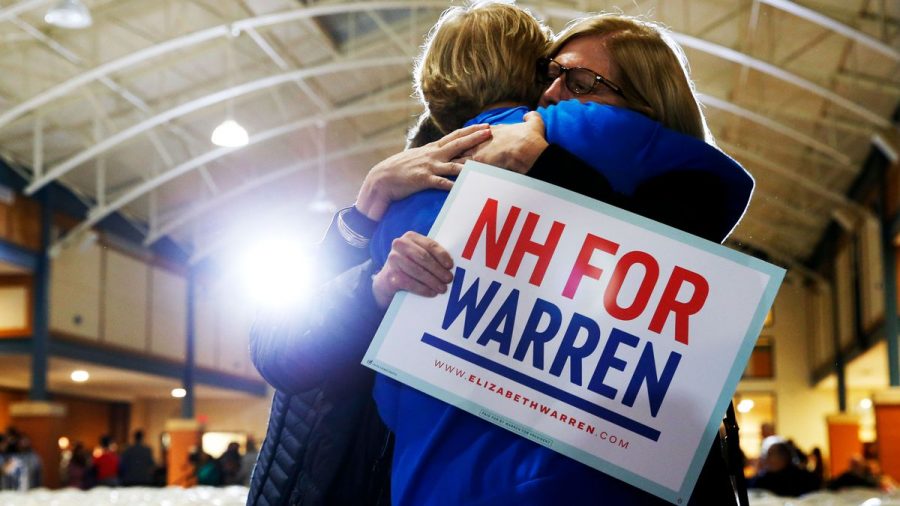 February 11th was the first primary for the Democratic Party, coming only a week after the Iowa Caucus that saw close numbers between candidates Bernie Sanders and Pete Buttigieg. 
The primary, taking place in New Hampshire, was the first primary for the 2020 election and was overall a make-it-or-break-it moment for many of the remaining Democratic candidates. 
Over the past 50 years, the New Hampshire primary has served as either a setback or breakthrough for the Democratic race and 2020s New Hampshire results reinforced this pattern. 
New Hampshire is recognized as one of the many swing states in elections, and only had a narrow Democratic victory over Donald Trump in 2016. What this means is that if the Democrats have any hope of winning the state again, this year's primary needed to show strong numbers relative to 2016's turnout. Fortunately for the Democrats, this year's primary in New Hampshire had a record-breaking turnout for the state.  
The New Hampshire primary results will give candidates gaining a percentage of votes of 15% of higher a number of delegates for the Democratic Convention. Only three candidates received the votes needed to gain delegates, including 9 for Bernie Sanders, 9 for Pete Buttigieg, and 6 for Amy Klobuchar. 
Results and Reactions:
Bernie Sanders- 76,352 votes 25.6% 9 delegates
Senator Sanders has been on the rise. Currently leading the national poll, the Senator has won the popular vote in both Iowa and New Hampshire, and his support shows no sign of slowing. His current fiercest competitor is Pete Buttigieg, and Sanders has been firing direct shots at the former mayor in hopes of keeping up his momentum. Sanders is known as the most extreme of the Democratic candidates and is fighting for many policies that many members of his party feel are too far left and could cost him the nomination. After running with high numbers in 2016, it is looking more and more likely that Sanders will continue to stay as the frontrunner for the Democratic candidates. 
Pete Buttigieg- 72,443 votes 24.2% 9 delegates
The former Mayor had a surprising turnout in both Iowa and New Hampshire. Known for his calm and engaging speaking style that has won him several debates, Buttigieg is likely to continue to remain one of the top contenders for the Democratic nomination. His only downfall will be his lack of support from minority voters that may cost him delegates in upcoming primaries. 
Amy Klobuchar- 58,774 votes 19.7% 6 delegates
Amy Klobuchar had an unsuspected turnout in New Hampshire following her strong debate victory earlier this month. The Senator is drawing support from many former Republicans and independents and is seen as a more middle-of-the-road candidate. As her campaign continues to gain higher recognition and support, her success is dependent on her standings in the upcoming primaries as to how she fares against the other Democratic candidates.
Elizabeth Warren- 27,427 votes 9.2% 
After being seen as one of the leading contenders of the Democratic candidates only months ago, Warren has lost the momentum that she needs if she has any hopes of becoming the Democratic nomination. Seen as similar in many aspects to Bernie Sanders, Warren has a large grassroots support among the middle class, however it is appearing unlikely she can afford to stay in the race much longer. 
Joe Biden- 24,911 votes 8.4%
The former Vice President has shown disappointing results in both Iowa and New Hampshire. Biden was previously seen as the likely frontrunner for the Democrats but has since lost the wave of support that he needs to win the nomination. Despite this, it is possible that his minority supporters will save his campaign in the upcoming primaries and put him back on top. 
Tom Steyer- 10,727 votes 3.6%
Tom has many strong policies and aspirations for the future of America and the Democratic Party but simply doesn't have the numbers needed to become the Democratic nominee. While he has a slim chance of gaining any delegates or becoming a direct competitor to candidates such as Sanders and Buttigieg, it does not appear Steyer has any intention to leave the race any time soon. 
Tulsi Gabbard- 9,655 votes 3.3%
After not having enough votes or financial success to appear in many of the recent debates, Gabbard quite frankly needs to suspend her campaign in the coming weeks for she has no chance whatsoever of receiving any delegates in the remaining primaries. 
Andrew Yang- 8,315 votes 2.8%
After a disappointing showing in February's Debate and Iowa's Caucus, entrepreneur Andrew M. Yang looked to New Hampshire as his last shot for his campaign. Following the New Hampshire Primary Andrew Yang suspended his campaign, which was a sad day for his large group of supporters. Despite his lack of political experience, Yang brought a large number of ideas to the party that could earn him a Cabinet position i=for the remaining candidates. It is imperative that Yang endorses one of the remaining candidates (likely Buttigieg Klobuchar or Bloomberg) to give his fellow Democrats more support. 
Deval Patrick- 1,266 votes .4%
Patrick dropped out following the results of the New Hampshire Primary.
Michael Bennet- 963 votes .3%
Bennet dropped out following the results of the New Hampshire Primary.
Other Mentions:
Michael Bloomberg- Despite not appearing as a choice during the Democratic New Hampshire Primary, Bloomberg has a high national poll ranking and could even make it into this month's upcoming debate.

Bill Weld- Weld is a Republican but I felt it important to mention that he received 9% in the Republican New Hampshire primary.