OLHS Athletic Signing
On wednesday, February 5th, four Olentangy Liberty Athletes signed their letters of intent to continue their athletic careers at the collegiate level.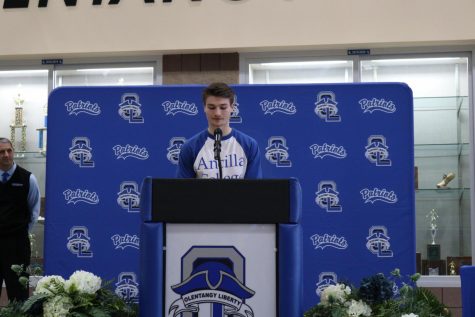 Korey Raymond is attending Ancilla College in Indiana and will be playing as a multisport athlete, playing both Cross Country and Lacrosse. At Liberty, Raymond played Football, Cross Country, Hockey, and Lacrosse. 
Theren Handlon is attending Georgetown College in Kentucky and will be playing soccer. Handlon is a three time Ohio South Youth Soccer Association (OSYSA) champion, as well as a OHSAA State Finalist. 
Tyus Thompson is attending Saginaw Valley State University and will be playing football. He will be studying at SVSU to become an elementary school teacher. Thompson has played over 40 games for Liberty and will continue his athletic career at SVSU. 
Ben Flees is attending Lawrence Technological University and will be playing football. Flees was a defensive end for OLHS and will continue his athletic and academic career at Lawrence Tech.