2020 Presidential Candidates in Ohio Primaries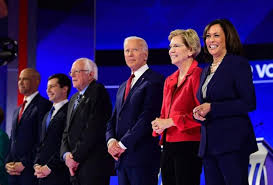 The Ohio Primary Election on March 17th, 2020 will feature 14 candidates: 12 democrats and 2 republican.
Democrats
Amy Klobuchar
     Amy Klobuchar is the first woman senator from Minnesota and a former Hennepin Count, Minnesota attorney. Klobuchar became nationally recognized when she sat on the Senate Judiciary Committee for Supreme Court Justice Brett Kavanaugh's case. In terms of her signature issues, she advocates for legislation on the opioid crisis in America, as well as the cost of prescription drugs. She says that in her first 100 days in office,  she would push for "green legislation," creating clean power rules and jobs in energy. She tends to stay away from topics her other democratic candidates are very vocal about, such as Medicare-for-all and free college tuition. She also supports the pro-choice view to abortion and creating stricter restrictions on guns. Overall, Klobuchar's views lean to the moderate side of the democratic party.
Tom Steyer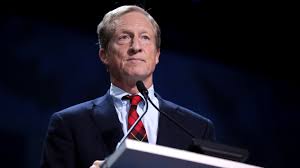 California billionaire Tom Steyer entered the presidential race relatively late, not announcing his campaign until July of 2019. Steyer has never run for office, but has been involved politics through non-profits he has created. One non-profit, NextGen Climate, was created in 2013 with the main goal of getting the Obama administration to block the Keystone XL Pipeline project. Steyer has publicly supported the importance of youth voting and has advocated for a push in voter registration. Steyer has also been involved with other campaigns through donations to Democratic candidates. In the past three election cycles, he has donated around $245 million dollars to fuel the policies of NextGen and the Democrats supporting it. Steyer's main push into the election was the impeachment of  President Donald Trump, something that was accomplished in the House of Representatives in December.
Joe Biden
      Former Vice President and Delaware Senator Joe Biden has been recognized in politics since his presidential campaign in 1988. Since then, the Democratic Party has evolved and adopted new ideas, while Biden changes his past view points to accommodate new norms. As a senator in 1981, Biden voted for a bill that would appeal the Roe V. Wade case on abortion. Recently, he dropped his support of the Hyde Amendment, which prevents federally funding for abortions, to fit with the changing Democratic base. Some of his signature issues in his presidential campaign include increasing federal funding for low income schools and a climate change plan which takes ideas from the New Green Deal. In terms of healthcare, Biden doesn't support Medicare-for-all but he does support the Affordable Care Act. Among the Democratic candidates, Biden is one of the most well-known in terms of his political career. While working as the Vice President under the Obama Administration, Joe Biden gained respect as an authentic politician. While his political career has transformed with the changes of the Democratic Party, Biden has still maintained his lean to the moderate side.
Bernie Sanders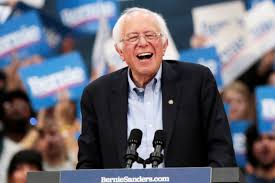 Bernie Sanders is a Democratic senator from the state of Vermont. He began his political career began in 1968, but it wasn't until 1981 until Sanders was elected mayor of Burlington, Vermont. While serving as mayor for 8 years, Sanders built an image that would then get him elected as one of Vermont's U.S. Representatives in the House. Then in 2006, Sanders won one of the Senate seats representing Vermont. In his time in Congress, Sanders had more bills approved by a floor vote than any other lawmaker. Sanders has kept the same ideas through his campaign in 2016, which are now being adopted by many other candidates in the 2020 election. Sanders has always been an advocate for public health care and now has other candidates onboard with his Medicare-for-all plan. Previously, his idea for a $15 minimum wage sparked debate, but now other candidates agree there is a need in a raise in minimum wage. Sanders also criticized campaign financing, such as receiving large sums of money from companies. His average campaign donation is below $100, and other candidates are feeling the pressure to do the same. One of Sanders most prominent ideas is free public college tuition for all, something not all the other candidates support because the government may not be able to subsidize it. Throughout his political career, Sanders has maintained progressive views, some of which are becoming main stream in the Democratic Party.
Pete Buttigieg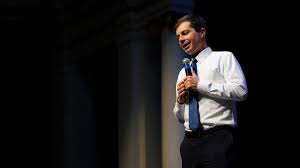 37-year-old Pete Buttigieg is a veteran and mayor of South Bend, Indiana. Although he lacks some of the political experiences of senators and even the Former Vice President, he has shown his strengths as the mayor of South Bend. The former industrial town had an unemployment rate of around 10% when Buttigieg took office in 2012. Near the end of 2018, the unemployment rate was around the state average at 3.7%. The policies implemented by Buttigieg improved the struggling town compared to other post industrial towns in the Midwest. Population grew steadily during his term. When there was backlash against his idea of redevelopment, Buttigieg gave money to improve the current houses. Some faults came in his mayoral power in June of 2019, when an African-American man was shot by a white police officer. Some doubted his power with topics like race and police violence. On his campaign, Buttigieg advocates for a single-payer healthcare system, the Green New Deal, removing the Electoral College, and automatic voter registration. One of his main topics is Supreme Court reform. Buttigieg proposes the idea of 15 justices, 5 of which must be unanimously be chosen by the other 10 justices appointed by the President. He says this system will decrease the likelihood of the Supreme Court becoming a "apocalyptic ideological struggle". Overall, progressive Pete Buttigieg's campaign and credibility is all based off of his accomplishments as mayor, which he claims gives his the experience of a president.
Elizabeth Warren
      Elizabeth Warren has proved herself as one of the top presidential candidates in recent polls. Warren began her political career after leaving the stay-at-home life and enrolling into law school. Years later, she began to teach at University of Pennsylvania and Harvard, where she taught bankruptcy law. Warren helped Congress through the big bank bailout during the George W. Bush presidency and was later recruited by President Barack Obama to get the Consumer Financial Protection Bureau (CFPB) started. When she wasn't picked to lead the agency, she ran for the Senate in 2012, representing the state of Massachusetts. Warren has many strong policies that have defined her campaign, such as combating political corruption. She has plans to do this through policies such as the ability to incriminate a sitting president. Other policies of hers include reproductive rights, free college tuition, and taxing the rich. Due to her time working during the Obama administration, people see similarities between Obama and Warren in terms of their points of view on issues.
Michael Bennet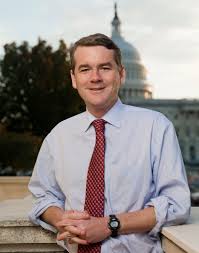 Moderate Senator Michael Bennet from Colorado focuses on creating policies that appeal to both Democrats and Republicans, such as immigration reform and public healthcare. Bennet often criticizes the polarization in government, because his state is 1/3 Democrat, 1/3 Republican and 1/3 independent. When Bennet left the world of law to move to Colorado for his wife's job, he joined John Hickenlooper who would later become the Governor of Colorado. Bennet became superintendent of Denver Schools and received criticism because he lacked experience in that role. In 2009, Bennet was elected senator and has held the position ever since. Some of Bennet's moderate policies include Medicare X, a public healthcare Americans can purchase that uses the same hospitals that Medicare uses. Bennet also sponsors the American Family Act, which would shrink poverty rates among children from 14.8% to 9.5%. As of now, Bennet is seeking donations so he can qualify for a Democratic debate.
Tulsi Gabbard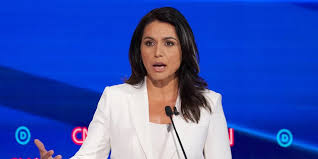 Tulsi Gabbard is a U.S. Army veteran and a U.S. Representative from Hawaii. She grew up in a family of politics: her mother Carrol Gabbard serves on Hawaii's State Board of Education and her father is a councilman for the city of Honolulu. Some of her views are shaped by her up bringing in the Hindu faith under her fathers views. Before her deployment, Gabbard was an advocate for anti-LGBTQ+ laws, proposing a bill to Hawaii Congress banning sex marriage. Gabbard was also a supporter for conversion therapy for children and opposed abortion. After her deployment, she realized the government should not have all that power over one's personal choices. In her Hindu faith, she views what she calls "radical islam" the biggest threat to America. These views lead her to criticize Obama's foreign policy and supports any attack against terrorism. She vowed her support for Syrian President Bashar al-Assad and Russia's strike on rebel groups protesting against Assad. She believed to defeat ISIS, the U.S. needed to join forces with Assad. These unpopular views hurt her image in Congress, but she is still in the race for the presidential nomination. Some of Gabbard's policies include $15 minimum wage, Medicare-for-all,  and Representative Alexandria Ocasio-Cortez's Green New Deal.
Deval Patrick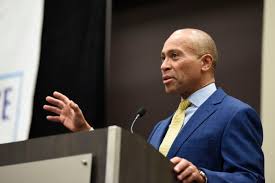 Former Massachusetts Governor Deval Patrick announced his presidential campaign only three months before the Iowa caucuses. Deval grew up on the South Side of Chicago and graduated from Harvard. He was the second Black Governor in American history as well. He announced his campaign after other presidential candidate Elizabeth Warren said she would appoint Deval to her cabinet. He wants to look beyond just beating President Donald Trump and focus on the future of the United States. Deval is not a supporter for Medicare-for-all, but wants a public health care option. His campaign also advocates for a simpler tax structure. Although Deval entered the race in November, Bill Clinton had entered the race in October of 1991 and won the election.
Michael Bloomberg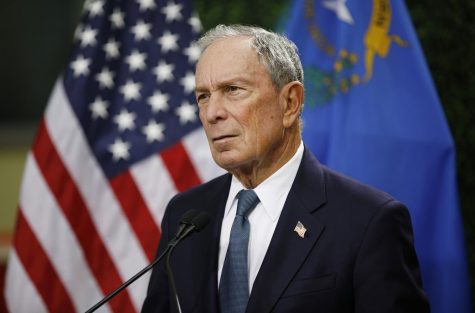 Billionaire and former New York City Mayor Michael Bloomberg announced his presidential campaign in late November, despite taunting with the idea of a run for years. After graduating from the Harvard Business School, Bloomberg went to Wall Street and later started his company Bloomberg LP. He has switched between the Republican, Democratic and even Independent parties and is currently running as Democrat. Bloomberg has not qualified for any of the Democratic debates because all his campaign funds come his $52 billion fortune. He has used his money to promote advertisements on TV and digital platforms. Bloomberg is a moderate candidate, and his biggest competitors are other moderates like Joe Biden and Pete Buttigieg. Some of Bloomberg's main objectives include gun control, climate change and aspects of the Green New Deal. Bloomberg does not agree with Medicare-for-all and Warren's taxes for the rich, calling them unconstitutional. Bloomberg's campaign will be similar to issues he's been advocating for since becoming mayor of New York City, giving him a base since he launched his campaign late.
Cory Booker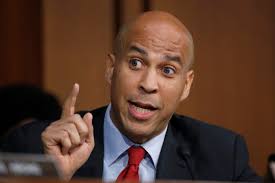 Cory Booker, a 49-year-old senator from New Jersey, was one of the first candidates to announce his campaign for president. Booker was elected to the Senate in 2014, and before that he was the mayor of Newark, New Jersey. Booker took part in the Brett Kavanaugh case, using public emails Kavanaugh believed were confidential. Booker's campaign focuses on progressive problems, such as the legalization of marijuana, justice reform and equality. Booker focused strongly on race and economics inequality long before his presidential campaign, appealing to Black voters. Booker signed Senator Bernie Sander's Medicare-for-all plan and supports the New Green Deal. Many bills that Booker released as senator became the base of his campaign, such as a "baby bond" which would provide low-income children with money to use towards college or careers. Booker's views and campaign tend to lean to the more liberal side of the democratic party.
John Delaney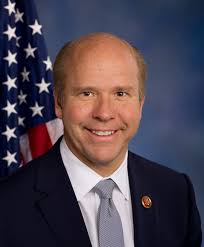 John Delaney represented Maryland in Congress for 6 years and worked as a health care finance executive before becoming a senator. Delaney was one of the first candidates to announce their campaign in 2017 as a moderate Democrat. He does not see the reality in left-wing socialist policies like Medicare-for-all. Being a former health care finance executive, Delaney has an extensive plan for the future health care. His plan would leave Medicare alone, but create a new plan for those under 65. It would provide basic health care with add on supplements citizens can chose to purchase. Delany believes the health care of senior citizens should not be bothered for now, but maybe merge both plans down the road. In terms of foreign policy, he wants to ensure free global trade, global engagement and doesn't plan on cutting military spending.
Republicans
Donald Trump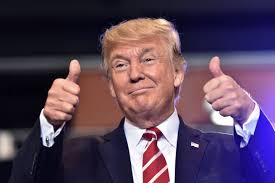 Donald Trump was elected president in 2016 and is currently serving as 45th President of the United States. Trump announced his reelection campaign during the summer of 2019. Trump's campaign in 2016 was built on the main issues of immigration, international trade and the economy. During his presidency, he has taken steps to carry out his campaign promises. In terms of immigration, Trump implemented a "zero tolerance" policy to illegal immigrants crossing the border. This contributed to the separation of families at the border, an issue the media has covered rigorously in his presidency. Trump also put a travel ban on some of the Middle Eastern countries to prevent terrorism. The Supreme Court upheld the plan with some tweaks. Trump promised to improve the economy by getting rid of Obama-era policies that increased taxes and regulations. Since then, the unemployment rate has dropped to 3.6% and jobs in areas like coal are increasing. Trump had argued for years that trade deficits have harmed the U.S. economy, so during his presidency he imposed tariffs on Chinese imports. Trump worked to decrease government spending on healthcare and reduce prescription drugs costs. His foreign policy structure is based on the idea of "America First", apparent in some of the foreign policy actions he's taken during his presidency. President Donald Trump was impeachment by the U.S. House of Representatives on counts of Obstruction of Congress and Abuse of Power, something that may impact his reelection campaign in 2020.
Bill Weld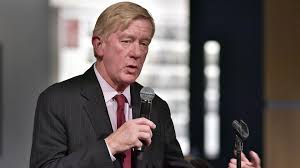 Bill Weld is the first Republican to start a campaign to run against President Donald Trump's reelection. Weld served two terms as the Governor of Massachusetts and served as legal council on the House Judiciary Committee during the Watergate impeachment inquiry. During the 2016 election, Weld ran for Vice President nomination in the Libertarian Party, something he says will help him with his Republican run for the nomination in the 2020 election. During his time as governor, Weld improved abortion and LGBTQ rights, cut taxes numerous times and led trade missions. Weld said during his first 100 days in office, he plans to cut spending and rebuild relations with the United State's best allies. On his campaign website, it states Weld's most important goals are combating climate change and income inequality. He also supports topics like gay marriage and marijuana legalization. Weld is conservative in the fiscal world,  but has liberal point of views when it comes to social issues.