Every Single Bowl Game Prediction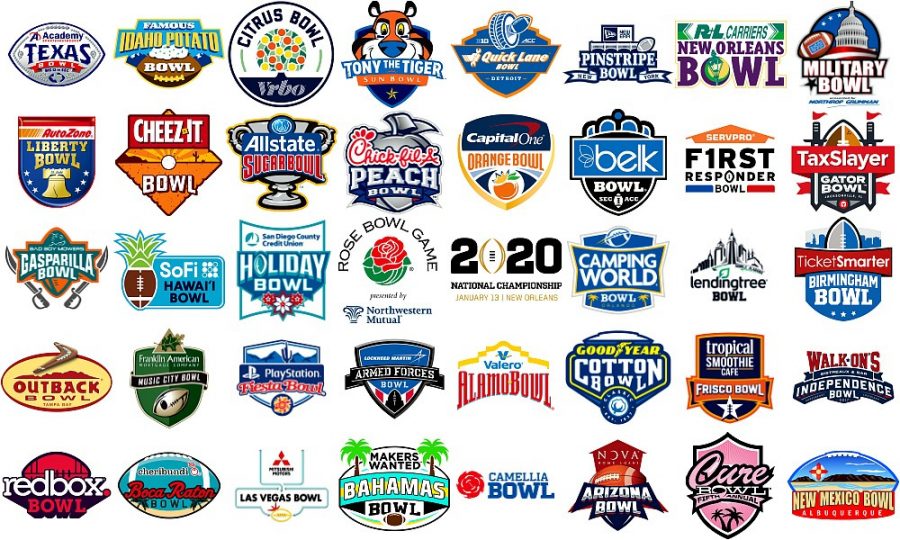 Season Records (As if they matter after this slate):
Jacob: 61-15 (Perfect predictions last week)
Preston: 60-16 (Also perfect)
Chris: 60-16 (Tried to be bold, ended up flopping)
Makers Wanted Bahamas Bowl: Buffalo vs Charlotte
Jacob: Buffalo 30 – 26 Charlotte
Preston: Buffalo 27-16 Charlotte
Chris: Buffalo 23- 21 Charlotte 
Tropical Smoothie Frisco Bowl: Utah State vs Kent State
Jacob: Utah State 21 – 17 Kent State
Preston: Utah State 35-10 Kent State
Chris: Utah State 38 – 14 Kent State 
New Mexico Bowl: Central Michigan vs San Diego State
Jacob: CMU 37 – 21 SDSU
Preston: SDSU 17-10 CMU
Chris: SDSU 21 – 14 CMU 
FBC Mortgage Cure Bowl: Liberty vs Georgia Southern
Jacob: Georgia Southern 42 – 31 Liberty
Preston: Liberty 34-33 Georgia Southern
Chris: Liberty 34 – 24 Georgia Southern
Cheribundi Boca Raton Bowl: SMU vs Florida Atlantic
Jacob: SMU 35 – 13 FAU
No Lane Kiffin, no chance for the Owls.
Preston: SMU 48-41 FAU
Chris: SMU 51 – 41 FAU 
Camellia Bowl: Florida International vs Arkansas State
Jacob: FIU 17 – 13 Arkansas State
Preston: Arkansas State 20-7
Chris: Arkansas State 28 – 3 FIU 
Mitsubishi Motors Las Vegas Bowl: 19 Boise State vs Washington
Jacob: Washington 25 – 23 Boise State
Preston: Washington 31-27 Boise State
Chris: Boise State 26 – 19 Washington 
R+L Carriers New Orleans Bowl: 20 Appalachian State vs University Of Alabama Birmingham
Jacob: App State 48 – 17 UAB
Preston: App State 38-27 UAB
Chris: App State 41 – 16 UAB 
Bad Boys Motors Gasparilla Bowl: UCF vs Marshall
Jacob: UCF 32 – 23 Marshall
Preston: UCF 30-28 Marshall
Chris: UCF 31 – 28 Marshall 
Sofi Hawaii Bowl: Hawaii vs BYU
Jacob: Hawaii 31 – 21 BYU
Preston: BYU 48-45 Hawaii
Chris: Hawaii 17 – 10 BYU 
Walk-On's Independence Bowl: Louisiana Tech vs Miami (FL)
Jacob: LA Tech 27 – 20 Miami
Preston: LA Tech 35-17 Miami
Chris: Louisiana Tech 35 – 21 Miami 
Quick Lane Bowl : Pitt vs Eastern Michigan
Jacob: EMU 31 – 24 Pitt
Preston: Pitt 30-10 EMU
Chris: Pitt  27 – 17 EMU 
Military Bowl: North Carolina vs Temple
Jacob: Temple 24 – 18 UNC
Preston: UNC 37-32 Temple
Chris: UNC 28 – 13 Temple 
New Era Pinstripe Bowl: Michigan State vs Wake Forest
Jacob: Wake Forest 38 – 13 Michigan State
Preston: Michigan State 20-19 Wake Forest
Chris: Wake Forest 38 – 19 Michigan State 
Texas Bowl: 25 Oklahoma State vs Texas A&M
Jacob: OK State 46 – 29 A&M
Preston: Oklahoma State 39-36
Chris: Oklahoma State 41 – 33 Texas A&M 
Holiday Bowl: 22 USC vs 16 Iowa
Jacob: Iowa 20 – 13 USC
Two bad offenses, but Iowa's D is better.
Preston: USC 24-20 Iowa
Kedon Slovis will give the Trojans hope heading into next year
Chris: Iowa 27 – 17 USC
Cheez-It Bowl: Air Force vs Washington State
Jacob: Air Force 30 – 20 WSU
Preston: Air Force 33-21 WSU
Chris: Washington State 45 – 22 Air Force 
Goodyear Cotton Bowl: 17 Memphis vs 10 Penn State
Jacob: Memphis 34 – 31 PSU
If Sean Clifford doesn't play, expect the high-flying Memphis offense to roll. Bean head with yet another L.
Preston: Penn State 35-21 Memphis
I've been making college football predictions since my Sophomore year, and here we are, in one of my final college football articles. I've said it before, and I'll say it one last time. Beanhead with the dub. 
Chris: Penn State 38 – 34 Memphis 
This is a close one for me but Penn State is just the better team and I can't pick Memphis without Mike Norvell. 
Camping World Bowl: 15 Notre Dame vs Iowa State
Jacob: Notre Dame 31 – 26 Iowa State
Preston: Notre Dame 34-24 Iowa State
Chris: Notre Dame: 33 – 30 Iowa State (OT)
First Responders Bowl: Western Kentucky vs Western Michigan
Jacob: WMU 41 – 31 WKU
Preston: WKU 30-24 WKU
Chris: Western Kentucky 36 – 30 Western Michigan 
Music City Bowl: Mississippi State vs Louisville
Jacob: Louisville 27 – 21 Mississippi State
Preston: Louisville 17-6 Mississippi State
Chris: Louisville 28 – 10 Mississippi State 
Redbox Bowl: Cal vs Illinois
Jacob: Cal 37 – 27 Illinois
Preston: Illinois 20-13 Cal (OT)
Chris: Illinois 34 – 28 Cal
Capital One Orange Bowl: 9 Florida vs 24 Virginia
Jacob: Florida 26 – 14
Florida may be the most overrated team in football, but they'll dismantle the Cavaliers easily just as Clemson did.
Preston: Florida 51-10 Virginia
I think the fact that Virginia is in this bowl game is a disgrace to the sport. I know they are the second best ACC team, but there are so many teams that could have been in this game that deserve it more (Utah, Alabama, Notre Dame). Expect a blowout. 
Chris: Florida 38 – 16 Virginia 
Florida is clearly the better team. The committee just needed another team to put in this bowl to keep the tradiontal SEC vs ACC matchup. I believe they should move away from this and put to teams that actually deserve to be there. Florida will roll over an inept Virginia team 
Belk Bowl: Virginia Tech vs Kentucky
Jacob: VT 30 – 27 UK
Preston: VT 33-23 UK
Chris: Virginia Tech 30 – 16 Kentucky 
Tony the Tiger Sun Bowl: Florida State vs Arizona State
Jacob: ASU 35 – 27 FSU
Tony's gonna love this one, with the Sun Devils taking the Frosted Flakes!
Preston: ASU 34-20 FSU
I'm hoping to see an encounter between Herm Edwards and Tony at some point during this game. 
Chris: Arizona State 44 – 17 Florida State 
I'm only watching this to see Tony! He's my favorite! 
Autozone Liberty Bowl: 23 Navy vs Kansas State
Jacob: Navy 48 – 40 KSU
Give me the Midshipmen's unique offense and powerful run game
Preston: KSU 24-23 Navy
Chris: Navy 30 – 28 KSU
Nova Home Loans Arizona Bowl: Wyoming vs Georgia State
Jacob: Wyoming 30 – 21 GA State
Preston: Wyoming 37-14 Ga State
Chris: Wyoming 24 – 14 Georgia State 
Valero Alamo Bowl: 11 Utah vs Texas
Jacob: Utah 45 – 10 Texas
Horns down, Utah with a big win over the worst Texas team in recent history
Preston: Utah 40-20 Texas
Utah will be motivated after an ugly loss. 
Chris: Utah 35 – 23 Texas 
Texas will look to redeem themselves after a poor season and bounce back for next year. Instead,  Utah will be too much though capping off a respectable season. 
Outback Bowl: 18 Minnesota vs 12 Auburn
Jacob: Auburn 31 – 30 Minnesota
Off of a gigantic Bama W, Bo Nix and recently-saved Gus Malzahn will get the W.
Preston: Minnesota 31-24 Auburn
There is usually at least one surprise outcome every bowl season. It's not that Minnesota is a bad team, but everyone is on the Auburn bandwagon after they beat Alabama. Give me the better coached team here. 
Chris: Auburn 38 – 24 Minnesota 
Auburn is a lot better than I have given them credit for. Tigers will end on a good note and hope to contend for a Playoff spot next year. 
VRBO Citrus Bowl: 14 Michigan vs 13 Alabama
Jacob: Bama 38 – 13 Michigan
Michigan got whooped by OSU their last game. Expect nothing less against an all-around great Bama squad (except QB)
Preston: Bama 31-26 Michigan
This will be one of the more exciting games, as Michigan is able to move the ball on a shaky Alabama defense. 
Chris: Alabama 34 – Michigan 32 
Nick Saban will find a way even with a backup quarterback who has not shown up.
Rose Bowl: 6 Oregon vs 8 Wisconsin
Jacob: Wisconsin 33 – 19 Oregon
For the first half of the B1G championship, Wisconsin looked like a playoff team. If they can keep that up, a blowout is in store.
Preston: Wisconsin 24-20 Oregon
This will be a classic Rose Bowl game. Very physical, beautiful stadium, and a down to the wire finish. 
Chris: Wisconsin 38 – 35 Oregon 
This will be hands down the most fun bowl game to watch aside from the Playoffs (unless there is a blowout). The "Grand Daddy of em' all" will live up to the hype this year.
Allstate Sugar Bowl: 5 Georgia vs 7 Baylor
Jacob: Georgia 20 – 16 Baylor
Yea, Justin Fields > Jake Fromm. But, Jake Fromm > Baylor Third-Stringers
Preston: Georgia 24-13 Baylor
Baylor has been a pleasant surprise all season, but they just don't have the talent to knock of the 'Dawgs.
Chris: Georgia 34 – 10 Baylor 
Baylor had a nice season but I am done hearing about them. Next question. 
Ticketsmarter Birmingham Bowl: Boston College vs 21 Cincinnati
Jacob: Cincy 24 – 14 BC
Preston: Cincy 28-25 BC
Chris: Cincy 45 – 28 Boston College 
Cincinnati will end their season on a good note as they might be kissing Luke Fickell goodbye…
Taxslayer Gator Bowl: Indiana vs. Tennessee
Jacob: IU 34 – 28 Tennessee
Preston: IU 35-27 Tennessee
Chris: Indiana 31 – 17 Tennessee 
Famous Idaho Potato Bowl: Ohio vs Nevada
Jacob: Ohio 27 – 6 Nevada
OU, Oh yeah baby!
Preston: Ohio 30-10 Nevada
Chris: Nevada 27 – 13 Ohio 
Armed Forces Bowl: Southern Mississippi vs Tulane
Jacob: Tulane 21 -13 Southern Miss.
Preston: Tulane 27-16 Southern Miss
Chris: Southern Miss 23 – 7 Tulane 
And finally… the LendingTree Bowl: Louisiana vs Miami (OH)
Jacob: Louisiana 40 – 27 Miami
Preston: Miami 23-21 Louisiana 
Chris: Miami 24 – 17 Louisiana 
Playoff Predictions coming soon…
About the Writers
Jacob Myers, Sports Writer
Hi, I'm Jacob Myers, a Senior here at Liberty. I'm a proud Browns, Cavaliers, and Buckeyes fan. You'll see me write about sports on here, and I hope you...
Preston Oliver, Sports Editor
My name is Preston Oliver and I am a sports editor for the Patriot Press. I play football and run track for Olentangy Liberty. In my free time, I love...