Discrimination Laws in Ohio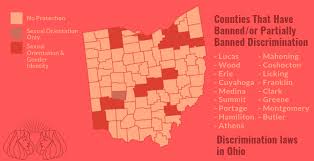 The City of Westerville recently approved an anti-discrimination law, banning discrimination of someone based on their gender identity or sexual orientation. The law bans discrimination in housing, jobs and public services. Cities, municipalities and counties in Ohio must adopt their own laws since the state does not have their own total anti-discrimination law on gender identity. The recent executive order signed by former governor John Kasich only protects LGBTQ+ rights in terms of state employment.
Other cities and municipalities in Ohio, including Columbus and Cleveland, have adopted the same law banning discrimination of all. With 28 cities and counties total, only 30% of the population is protected by LGTBQ+ anti-discrimination laws. Anti-discrimination laws don't fully protect members of the LGBTQ+ community. Laws against conversion camps and conversion therapy are needed, since only 15% of Ohio citizens are protected from them. 
Such laws can provide the protection and rights for LGBTQ+ people that other people already have. Laws can protect same sex parents looking to adopt, protect children in the foster care system, bullying in schools, and covering LGBTQ+ people in hate crimes. These laws are beneficial because they will provide LGBTQ+ people with the same rights as everyone else.
If the state of Ohio can't propose and pass a state-wide LGBTQ+ anti-discrimination law, it is up to the counties and cities to protect their communities. The lack of anti-discrimination laws leaves over 4.3% of the population without lawful protection. Especially in local cities and counties, the community has a strong voice and power over local government decisions. Community members should use their power for the good and protect the basic rights of everyone.