Santiago, Chile- Death Toll Continues to Climb as Protests Enter Second Week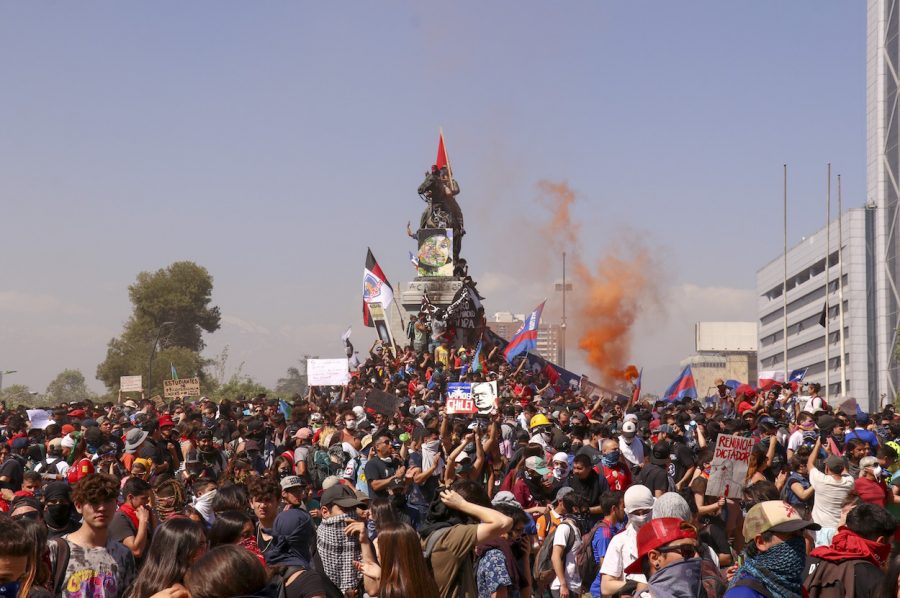 Following over ten days of protests, looting, and curfews that caused 19 deaths and the declaration of a state of emergency, Chile's President Sebastián Piñera has made extreme governmental changes in hopes of ending the chaos.
The resentment began in mid-October as a result of an increase in public transit costs. This has since sparked a protest over the rising living costs and social inequality in the country, often considered as one of the safest in Latin America. 
Protests began as a coordinated campaign by college students to protest local metro stations but escalated into takeovers of train stations and conflicts with police. On October 18th, the unrest intensified as hundreds of students took to subway stations across Chile, stopping transportation, burning fires, and creating over 200 million dollars worth of damage. More than 80 stations were damaged, over a dozen of which were set ablaze. With no end in sight, bands of mask-wearing protestors took to looting supermarkets and starting fires, some taking the lives of trapped Chileans.
The country's president, 69-year-old billionaire Sebastián Piñera originally denounced those protesting in the country, referring to the protestors as, "at war against all good-willed Chileans who want to live in a democracy with liberty and peace." Chileans have since used the phrase "no estamos en guerra," translating to "we are not at war" as a call to change and a response to Piñera.
Armed forces swarmed the streets of Santiago after the President declared a State of Emergency and mandatory curfews for the first time in over 30 years. This announcement seemed to only create greater turmoil in the country. The last time a Chilean president invoked such an event was during the seventeen year-long military regime rule under Augusto Pinochet, during which over 3,000 Chileans were killed. 
Altercations between the military and protestors have often turned violent, with methods such as tear gas and water cannons being used to combat barricades and fires. In total, an estimated 19 people have been killed since the protests began, including ten killed in fires, and five killed by Chilean police or military. 
The United Nations announced Thursday that they would begin an investigation into human rights abuse in Chile, following numerous complaints about tactics used to quell the protests. The reports range from claims of excessive force and illegal raids to torture. In total, the National Human Rights Institute reports 535 people have been injured -239 by firearms — and 2,410 detained.
Significant changes made by President Piñera have done little in ending the countries turmoil. Since the start of the protests, the president has lowered transit prices, increased the wage for the country, and put an increase on electricity on hold until next year. The government's pleas and offers to citizens for negotiations have gone unnoticed, as Chileans begin to demand the president steps down. This demand is eerily similar to the demands made by Hong Kong protestors in early September. 
 Piñera has recently dismissed the members of his cabinet in hopes of introducing new social reforms for the country. He told his country through speech that "I have put all my ministers on notice in order to restructure my cabinet to confront these new demands." This announcement came shortly after one of the largest protests since Chile's democracy this past weekend. Over a million protestors swarmed Santiago, singing songs, banging pans, and urging social reform. Other protests have taken place in almost every major city in Chile, including some in Tokyo and Manchester in support of the Chileans.
With the state of emergency discontinued and many curfews ending, Chileans are hopeful that they will soon be witnessing major changes towards a more unified and equal future for their country.