What is Impeachment?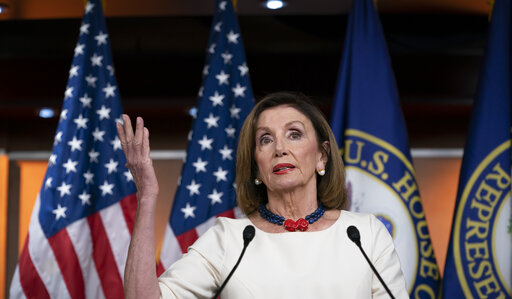 With all the recent happenings in our government, it is imperative to stay informed. This article will discuss what impeachment is, its historical significance, and how it relates back to today and President Trump.
House Speaker Nancy Pelosi announced a formal impeachment inquiry on Tuesday, Sept. 24 amidst allegations against President Trump and his dealings with Ukraine. What exactly does this mean for the President, as well as our nation?
Pelosi argued in her statement that Trump's actions have "seriously violated the Constitution," and that "no one is above the law." If Pelosi's statements are found to be true, then President Trump's position as President will undoubtedly be in jeopardy. However, before the official articles of impeachment are to be written, an impeachment inquiry must first take place. Article II, Section 4 of the U.S. Constitution states that the president can be tried for committing "Treason, Bribery, or other high Crimes and Misdemeanors." The impeachment inquiry will investigate whether or not Trump's actions fall into any of these categories, primarily "high Crimes and Misdemeanors." Because of the vague nature of this phrase, it is often largely up to the House of Representatives to decide what warrants impeachment. 
If there is substantial evidence to write articles of impeachment, or a written draft of charges against the President, then the House will write them, initiating the official impeachment process. The House will then vote on whether or not to officially pass the articles of impeachment. If they pass by a simple majority (51%), then the President is impeached. 
According to The Washington Post, 227 House members support an impeachment inquiry for President Trump, out of the House's 435 total members. 30 of these members say they support impeachment.  It is important to note that the majority of the House of Representatives is currently democratic. 
Following impeachment, the charges against the President are brought forward to the Senate who then tries them. The Chief Justice presides over the evidence collection and hearings. In order for the president to be convicted, a two-thirds supermajority vote in the Senate is required. A supermajority vote will result in the President's official removal from office. It is also important to note that the majority of the Senate is currently Republican. 
President Trump is the fourth president throughout all of U.S. history to face impeachment or to have articles of impeachment written against him. None of the previous three presidents (Andrew Johnson, Richard Nixon, and Bill Clinton) have officially been removed from office. Nixon evaded both impeachment and potential removal from office by resigning. 
Whether or not Trump will face similar fates as any of the previously accused presidents is still unclear. However, as the impeachment inquiry progresses and more evidence (or lack thereof) is gathered, Americans will have an increasingly better picture of what their President will face.
This is the first article in a series that will aim to update OLHS students on news regarding President Trump and the impeachment procedure.
About the Contributor
Ellie Okonak, Staff Writer
Ellie is a 11th grader at Liberty High School. She runs on the school cross country and track teams. This is Ellie's second year writing for the Patriot...