Homecoming Part Two- A Town Divided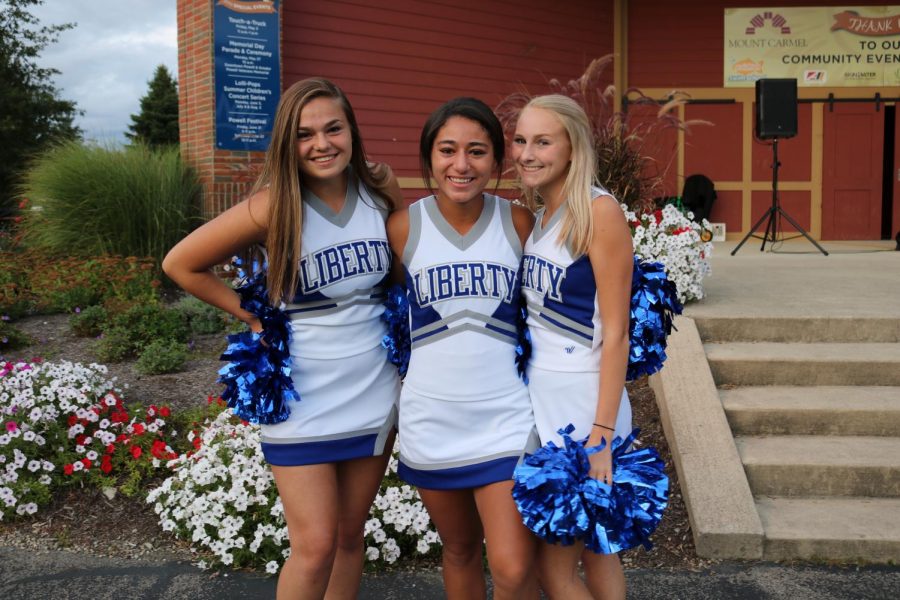 Since 2003, Liberty High School (LHS) has been filled with students from all over Powell. When Liberty High School opened, there were roughly 8,600 students in the Olentany Local School District (OLSD). Fast forward to today, and there are around 20,000 students receiving an education within the district. 
Due to the rapid growth and overcrowding of the district, another high school was built. Berlin High School, OLSD's fourth high school, opened at the start of the 2018-2019 school year. In order to populate the school, students throughout the district were redistricted, some against their will. The line for redistricting cuts right through the middle of downtown Powell, splitting the town between LHS and Olentangy High School (OHS). 
"The redistricting definitely impacted most of my friendships. I've been able to keep in touch with a few friends but I've lost the majority of my friends from Liberty," OHS student Caroline Brenneman '21 said. While redistricting removes students from their old friendships, it also impacts friendships at their new school.
"Even down to the neighborhoods and who lives close to who, it's really annoying to live at least 15 minuntes from anyone who goes to Olentangy High School," Kendall Koberna '21 said. Living in Powell but going to school in Lewis Center has caused distance between her and her friends at OHS. Former Patriots may be separated even more with Liberty's increased involvement in the Powell community. 
Instead of a traditional pep rally on the Friday before homecoming, Liberty's student council and Mr Starner have invited students to a community bonfire. On the Wednesday before homecoming, students can attend a bonfire celebration at the community stage in downtown Powell. Just like the pep rally, the fall sports and homecoming court will be announced. The bonfire provides a new and innovative way to involve students in the community. While the bonfire is held just steps away from OHS students' homes, it doesn't involve their own school. Along with Liberty's increased community involvement, OHS students may feel left out from the domination of Liberty's athletics. 
Over the summer, the Patriots Fall Sports Fest was held at Shorty's Pizza and Growl in Powell in order to fundraise for the athletics program at LHS. The proceeds from the event were used to help fund the $1,000,000 project for a multi-sport facility and new restrooms near the baseball fields. In order to fundraise, the Olentangy Liberty Athletic Boosters (OLAB) has begun to involve members of the community through events. As Powell is being utilized to benefit Liberty's athletics, Olentangy students living in Powell feel as if Liberty's sports have taken over their town. 
"Powell is centered completely around Liberty and Liberty athletes and sports and programs," Koberna said. In local restaurants all around Powell, posters for Liberty athletics are hung inside. How can the Powell community adjust to include OHS into Powell as well? Many Powell students were granted interdistrict transfers, but as time goes on more students will be attending OHS. Will organizations in Powell embrace Brave's sports as well? The integration of Liberty's student life and athletics into Powell contributes to the distance students, who are redistricted, deal with on a daily basis. 
"It would definitely be hard to see Liberty incorporate public places into school events just because a significant amount of students attend OHS," Brenneman said. 
As much as Liberty is becoming incorporated into Powell, these events are not exclusive to just Patriots. The events engage the whole community and allow Liberty High School and Powell to join together. It gives an opportunity, if Braves want to take it, to embrace new traditions with their old Liberty friends, family and community. 
"Knowing I could still go if I wanted to, even if it's not my school, makes it a little better," Koberna said.