NFL week three predictions (2019)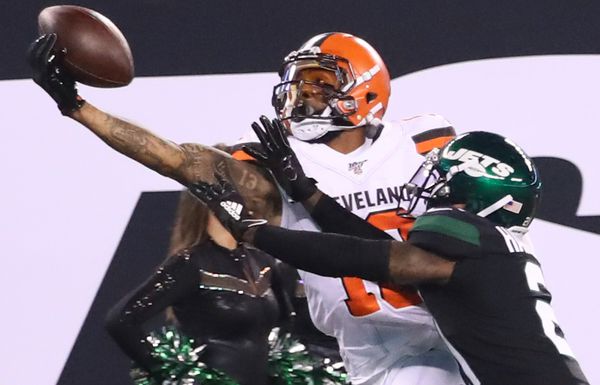 Well, week two was rough for my predictions, and especially for franchise Quarterbacks. Saints QB Drew Brees went down with a hand injury that will keep him out six weeks, Steelers QB Ben Roethlisberger sustained an elbow injury that ended his season, and the Jets are down to their third string QB. There were a couple surprise wins, such as the Lions beating the Chargers and the Buccaneers beating the Panthers that really derailed my predictions. But, last week is behind us and now we move on to week three:
Record:
Last Week: 8-8
Total: 21-11
Thursday Night Game:
Titans vs Jaguars:
This SHOULD be an easy win for the Titans. Everything is pointing to a Titans win. The Jaguars are playing their backup QB and their star Cornerback wants out via trade. But, I thought last week should've been an easy win for the Titans, and they disappointed. Titans QB Marcus Maritoa is always unpredictable, and how he performs always affects how the Titans perform overall. The defenses for both teams are actually really good and can slow down both mediocre offenses. I'm going to reluctantly give this game to the Titans because at least they still have their number one QB option healthy.
Titans Win 21-13
Sunday 1:00 Games:
Dolphins vs Cowboys:
This is not a hard game to pick. The Dolphins are the worst team in the NFL right now, and will lose every game until further notice. The Cowboys have actually been performing above my expectations and are showing a lot of flashes on offense. QB Dak Prescott deserves to be paid what he asks and this team will continue to win easy games, like this one, and probably will manage to win some close games because of the talent on offense. 
Cowboys Win 45-10
Bengals vs Bills:
The Bills are off to an impressive start, the Bengals are not. The Bengals seemed to be on the right track after staying close with the Seahawks all of week one, then they got blown out by the 49ers this week. Maybe the 49ers are better than most people, including myself, give them credit for. Either way, it was a terrible performance by the Bengals and I'll need to see more from them before I can predict a win from them again. The Bills are off to a great start at 2-0, granted it hasn't been against great teams, but it's still a 2-0 start. The Bills defense is in the top five in the NFL and QB Josh Allen has proven he is a very dynamic QB. The Bills are on their way up and the Bengals are exactly where they were last year.
Bills Win 27-17
Lions vs Eagles:
Despite my prediction the Lions defense handled the Chargers very well last week and lead the team to a win. However, it was a sloppy game for both offenses, and even though they pulled out the win, the Lions didn't look amazing. There is potential on this Lions team and it could definitely breakout this week, but I still think the Eagles will win. Despite some key injuries to the receiving corps, I think the Eagles are still a more talented team, and they're at home. I think the Lions could win more games this year than I originally predicted, but not this one.
Eagles Win 24-20
Jets vs Patriots:
Yikes. This game is going to get ugly fast. The Jets are down to their third string QB after Sam Darnold went down with Mono and Trevor Simeian looked like he has a nasty ankle injury last week. Once Simeian went down, the Jets couldn't do anything with the ball. The Patriots are probably the best team in the NFL right now, and I don't think they'll have any problems beating the depleted Jets.
Patriots Win 31-6
Falcons vs Colts:
Both of these teams had impressive wins last week, and both look to be on the right track after losing week one. The Colts have proven they can still win games without Andrew Luck, although not as convincingly. The Falcons had a rough week one, but then beat the Eagles last week, so I really don't know what to make of them, so I think this game will allow the Falcons to show their true colors, either positively or negatively. So, I'm going to give this game to the Falcons because they have the more experienced QB and better receiving corps. 
Falcons Win 21-17
Raiders vs Vikings:
As I guessed, the motivation of Antonio Brown diffused last week throughout the whole Raiders team and they got crushed by the Chiefs. Granted, it isn't all on the Raiders, the Chiefs are just amazing and will dominate almost any team that gets sent their way. The Raiders are still not a great team and major steps still need to be taken before they can even be in the wild card conversation. The Vikings lost a good game to the Packers last week, and I still think they are one of the more talented teams in the NFC. I think they'll have no problem winning this week, and by a solid amount. Their defense will be able to slow down the Raiders offense very easily and RB Dalvin Cook will run wild all over the Raiders defense.
Vikings Win 30-14
Ravens vs Chiefs:
This will be a fun game to watch. Hopefully it doesn't disappoint and is a classic shootout match between two great quarterbacks. Ravens QB Lamar Jackson has recently exploded onto the scene and has become the ultimate dual threat quarterback. Not many QBs in the NFL can rush for over 100 yards and throw for over 200 but Lamar Jackson did it last week. He has found his two favorite targets in wide receiver Marquise Brown and tight end Mark Andrews. The Ravens actually have quite a good outlook for the rest of the season with the Browns as their only obstacle to winning the division. (Here comes the word Ravens fans will hate to hear) But, the Chiefs are a superior team and Patrick Mahomes is a superior QB. This will be a fun and offense heavy game, but the Chiefs will end up winning it.
Chiefs Win 35-31
Broncos vs Packers:
The Packers are looking like quite a good team, their defense is a lot stronger than I expected and their offense is starting to find their rhythm. The Broncos are a lot less inspiring and Joe Flacco is showing why he lost his starting job last year. I actually really like the Packers to win this game and pretty easily. The Broncos defense is still very good but I think Packers QB Aaron Rodgers will be able to find holes in the secondary and slowly pick the defense apart all game.
Packers Win 24-10
Sunday 4:00 Games:
Panthers vs Cardinals:
Both of these teams are off to a pretty rough start to the year, minus a few bright spots. Panthers QB Cam Newton is just not the same QB he was a few seasons ago and it really shows. he Panthers collapsed last week against the Buccaneers. Meanwhile, Cardinals rookie QB Kyler Murray had two great under the radar performances in the first two games of the season. Tand I don't really think they get back right this week. Even though its an unpopular pick, I'm going to give this one to the Cardinals.
Cardinals Win 20-17
Giants vs Buccaneers:
The Giants made a huge move this week by benching longtime QB Eli Manning for rookie Daniel Jones. They're basically throwing him out there against one of the easier teams on the Giants schedule and seeing what he can do. Spoiler Alert: There's a pretty heavy chance he doesn't do well and the Buccaneers win this game easily. That's what I'm going to go with and give the Buccaneers a victory in what hopefully will be a high scoring affair for the Buccaneers offense. (Side Note: I'm predicting this is the week Buccaneers WR Mike Evans finally goes off).
Buccaneers Win 28-17
Saints vs Seahawks:
Prior to Saints QB Drew Brees' hand injury, I would've said this would be a really good game. But, unfortunately the Saints offense is going to take a huge step down without future Hall of Famer (calling it now) Drew Brees. The Seahawks defense should be able to slow the Saints offense right off the bat and keep them from putting up too many points on the scoreboard. Seahawks QB Russell Wilson should have a pretty solid game, and the Seahawks will cruise to an easy victory.
Seahawks Win 24-12
Texans vs Chargers:
I changed my pick for this game about five times before coming to my final conclusion. I'm still not confident in it, but I'm going to give this game to the Chargers. The main reason? Chargers DE Joey Bosa vs the Texans offensive line. Over the last two weeks, Texans QB DeShaun Watosn has been the most sacked QB in the NFL. The Texans O-Line can not give him enough time to get the ball out. The Chargers defensive line and especially Joey Bosa will take advantage of that and wreak havoc all game long. So, with Watson running for his life half the game, the Texans offense won't be as efficient as in previous weeks. That's where QB Phillip Rivers and the Chargers offense are able to outscore the Texans and outlast them until the end of the game.
Chargers Win 24-21
Steelers vs 49ers
The Steelers lost QB Ben Roethlisberger for the year. Ouch. Mason Rudolph actually did pretty good in relief of Roethlisberger last week, but I think Rudolph will need a week or two to get going. The Steelers can definitely still win games with Rudolph, the question is "how many?" The 49ers are actually on a roll and I think it continues this week and beat the Steelers, and the 49ers may even be a contender this year. Who knows? I think the 49ers are a well rounded team and will be able to take advantage of an NFL QB making his first career start.
49ers Win 27-21
Sunday Night Game:
Rams vs Browns:
The Browns have not lived up to the hype that was built around them all offseason and they are off to quite a slow start. They will improve as the year goes on and I believe they will be neck and neck with the Ravens all season for the race for the division title, but they're not getting a win this week. The Rams are one of the most talented teams in the NFL with one of the best coaching staffs in the NFL and they will show up the Browns in primetime. This doesn't mean the Browns won't but up a good fight, which they will, it just won't be enough to win. I think both QBs will have great games with over 300 yards passing each, and it should be a fun game on Sunday night. 
Rams Win 35-27
Monday Night Game:
Bears vs Redskins:
This game is not going to be very entertaining. Both teams will struggle to put points up on the board and neither of the teams' QBs will have a great game. Despite them being the team without a win on the season, I'm going to give this game to the Redskins. The Redskins offense has been more high-powered through the first two weeks of the season and I think they will be able to put up enough points to win, even against the Bears elite defense. I hope the Monday night games get better from here on out. 
Redskins Win 17-13
Well those are my week three predictions, feel free to leave your opinion down below in the comments. Let me know if I'm wrong! I'll be back next Thursday with week four predictions, and remember to enjoy some football this weekend!
About the Contributor
Carson Zorn, Staff Writer
Carson is a senior at Liberty, and is in his second year of writing for the Patriot Press. Carson mainly covers the sports and entertainment side of the...