2019-2020 NFL NFC Predictions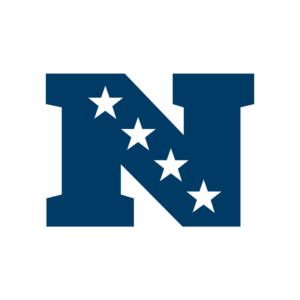 The NFL season is less than a week away and fans are getting ready for the first game of the season on Thursday night. I already put my AFC predictions out, and as promised, here are my NFC predictions:
NFC North:
Green Bay Packers, 10-6, Playoff Bound!

Minnesota Vikings, 9-7, No Playoffs

Chicago Bears, 8-8, No Playoffs

Detroit Lions, 4-12, No Playoffs
The NFC North has three really good teams, and one team that's still finding itself. I think the Packers rebound this year. They have a top 5 Quarterback (QB) in Aaron Rodgers, who is finally healthy, a top 10 Wide Receiver (WR) in Davantae Adams and a top 15 Running Back (RB) in Aaron Jones, a solid defense, and most importantly, a new Head Coach. Getting rid of Coach Mike McCarthy was definitely the best move the Packers made in the offseason as McCarthy continually underutilized Rodger's talent. The Packers have a relatively easy schedule, but are in a very close division, leading them to only 10 wins, but also to the playoffs. The Vikings are basically the same team they were last year, they got a little face lift with a new Offensive Coordinator, but they still have the same offensive weapons. The main problem with the Vikings' offense is QB Kirk Cousins. He is a slightly-above average QB who has two explosive weapons in his arsenal in Receivers Adam Thielen and Stefon Diggs. This team is still a good team, and their defense is quite formidable, but they just don't have what it takes to make it to the playoffs for the second year in a row. Unpopular opinion, but I think the Bears take a step back this year. The Defense is elite, there's no argument there, and that defense alone is enough to win games. But the offense is a big concern. QB Mitch Trubisky seems to have already reached his peak and he doesn't have a lot of weapons to throw to. The addition of RB David Montgomery fills a much needed void left by Jordan Howard's departure, but it's not enough. The Bears are very unpredictable this year, and they definitely could finish above .500, but I don't see them making the playoffs. I'll keep it short, the Lions are nothing special, they can win any game spontaneously, but recently they are never a playoff contender and pick within the top 10 in the draft. They need a couple more years to build a solid team before they can even come close to a playoff berth.
NFC South:
New Orleans Saints, 11-5, Playoff Bound!

Atlanta Falcons, 10-6, Playoff Bound!

Carolina Panthers, 8-8, No Playoffs

Tampa Bay Buccaneers, 6-10, No Playoffs
The South is definitely the most competitive division in the NFC, almost every team in the division has a solid shot at the playoffs, but it's all up to chance. The Saints will be dominant once again with an elite offense and solid defense, and Drew Brees will continue to be a top 5 QB in the NFL. WR Michael Thomas will continue to be one of the best receivers in the league, and RB Alvin Kamara will continue to dominate defenses. Another great year is in store for the Saints. The Falcons are my sleeper team this year. Many people point to last year and say the Falcons are terrible, but they tend to forget that almost every defensive player for the Falcons were injured last year. The Falcons have a great defense when the key players are healthy, and the offense is incredible, which is led by QB Matt Ryan and WR Julio Jones. RB Devonta Freeman is also seriously underrated, and he's back and healthy this year. The Falcons have all the pieces in place for another playoff, and potentially, Super Bowl run. The Panthers are unpredictable week to week, they could beat a Patriots-level team and then lose to a Dolphins-level team. It all hinges on how QB Cam Newton performs said week. The key factor in every Panthers' win is workhorse RB Christian McCaffery. He can put the whole offense on his back for drive after drive. However, McCaffery can't do it all and WRs Curtis Samuel and DJ Moore need to prove themselves this year.  The defense is fine, but it isn't anything special. The Panthers are about as average as a team there is, and that will reflect in their record this year. The Buccaneers are an interesting team this year, because they have a new HC in Bruce Arians. Arians is a former Cardinals HC and lead them to the playoffs multiple times before "retiring." But he's back with a whole new squad in the Buccaneers. The receiving talent this year is elite between stud receiver Mike Evans, breakout candidate Chris Godwin, and top 5 Tight End (TE) O.J. Howard. The only question is if QB Jamies Winston has it in him to utilize all of this talent, and I don't think he does, which is disappointing because this offense could be truly elite. The RB situation is a little weird with basically a 50-50 chance for either veteran Peyton Barber or second year back Ronald Jones to win the starting job. The gaping hole is in the defense, as they came in 27th in the league last year with total yards allowed. Unfortunately, they finish last this year, despite having potential. 
NFC East:
Philadelphia Eagles, 13-3, Playoff Bound!

Dallas Cowboys, 9-7, No Playoffs

Washington Redskins, 7-9, No Playoffs

New York Giants, 4-12, No Playoffs
This is the Eagles division this year, no doubt in my mind. With QB Carson Wentz fully healthy, the offseason addition of WR DeSean Jackson on top of WR Alshon Jeffery and TE Zach Ertz, as well as adding RB Jordan Howard to the backfield, this offense is truly explosive this year. The defense will also step up from last year and this team will return to Super Bowl form. The Cowboys will just barely miss the playoffs this year because of two words: Dak Prescott. He is just not a playoff-caliber QB, and even though he is surrounded by elite talent in RB Ezekiel Elliot and WR Amari Cooper, he just isn't enough to get the job done. The defense is still really good, but I just have a gut feeling the Cowboys won't make the playoffs. The Redskins are going to be going through a QB Carousel the whole year, and I think they start every QB on their roster at some point in the season. The backfield is also a mess between three different running backs, and the Redskins have not been anything special in quite some time. As long as Jay Gruden is their HC not much else will improve. I'll keep it quick, all the Giants have is the talent of Saquon Barkley. He is the only thing that will keep this team afloat now that Odell is gone. The defense is still a dumpster fire and Eli Manning is uninspiring as QB. I really wish I could give the Giants more wins, but I don't see them getting more than 5.
NFC West:
Los Angeles Rams, 12-4, Playoff Bound!

Seattle Seahawks, 10-6, Playoff Bound!

San Fransisco 49ers, 6-10, No Playoffs

Arizona Cardinals, 3-13, No Playoffs
Even though RB Todd Gurley is a huge question mark, the Rams are still the best team in the division. Between the outstanding coaching of Sean McVay, the elite group of WRs, the top-5 defense, and the incredible talent of Jared Goff, the Rams are poised for another Super Bowl run. There's not much else to say about the Rams because their talent speaks for itself. Even though they lost key defensive players, the Seahawks are still in shape for another great season, and a playoff berth. QB Russell Wilson will continue to be a top tier QB and the heavy-run approach with Chris Carson will keep teams guessing. The defense is no longer "The Legion of Boom," but they arguably still have the best Linebacker in the NFL with Bobby Wagner. While there could be some serious questions revolving around the secondary and WR positions, the Seahawks still have enough left in the tank for another great season. The 49ers are slightly unpredictable because QB Jimmy Garoppolo himself is slightly unpredictable. Will he even be fully recovered from his ACL tear? Will he play like a starter or a backup? And will he utilize the weapons at the receiving positions, especially TE George Kittle? The defense is still questionable and I don't think the 49ers have it in them this year for a long run. The Cardinals made an interesting choice by drafting a QB in the first round for the second year in a row. Kyler Murray is an upgrade from Josh Rosen, but it's still not enough. The Cardinals will continue to under perform even under a new HC. I think they could get better over the next couple years once they adjust to the new coaching staff, but this year is not their year. 
Those are my predictions for the NFC and I'll be back every Wednesday throughout the NFL season to give you week by week predictions.
About the Writer
Carson Zorn, Staff Writer
Carson is a senior at Liberty, and is in his second year of writing for the Patriot Press. Carson mainly covers the sports and entertainment side of the...