Important topics discussed at the August Board of Education meeting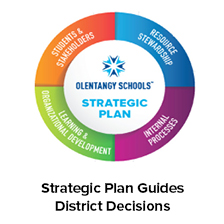 The Olentangy Board of Education met for their monthly business session on Thursday, which was the first of the 2019-2020 school year. Multiple administrative personnel shared ideas they believe will improve the district if approved by the board. 
First on the agenda was a presentation from Olentangy's Chief Operations Officer, Mr. Meyer, who spoke of the recently hired staff. As supported in his presentation yesterday, there are currently 1,450 certified teachers, not including substitutes or classified employees, and over 200 newly hired teachers.
The growing population of our schools is always a topic of discussion, however the focal point used to be on the high schools, but now the administration is worrying about the capacity of elementary schools. Superintendent Raiff proposed the need for two new elementary schools and another middle school to the board. According to the Olentangy Schools Enrollment Report that he shared during his presentation, over the next 10 years it is projected that the district elementary school population will go from the current 9,900 students to 12,398 students. There has been no conclusion on where the elementary schools would be located, but the issue will be put on the ballot for March 17, 2020. 
Another topic of concern that Superintendent Raiff brought to everyone in the rooms attention is vaping within our school district. He described the importance of cracking down on the issue by wanting to install "vape detectors" in every bathroom of every high school. Superintendent Raiff briefly described that the detectors would alert a staff member on the issue in the specific bathroom. It was not entirely clear on how administration would know who exactly used a vape pen, how it works, or if the board has officially approved.
During this specific meeting, the presentations covered the basics of what would be needed to fulfill the objectives of three new schools and vaping detectors. And an important question of "why does our district need these?" Was answered. Right now is just the beginning of these proposals and it is expected that they will advance with more information in the near future.