What Puts the 'Madness' in March Madness
From Saint Patrick's day to Daylight Savings, with hopes of the coming summer mixed in, March has always been an optimistic month. However, there is one tournament that attracts all people, sports fans or not. The NCAA Division I Men's Basketball Postseason Tournament, also known as "March Madness" fits that role. With 63 games taking place over a three-week span, the tournament sparks many 'bracket pools' where groups of people try to make a perfect bracket. From high school friend groups to off-task salesmen at the office, March Madness reaches a variety of audiences. People all across the world try their luck with hopes of a perfect bracket and a chance to win millions of dollars or just their pools. Yet, the question that has overtaken the nation is why do so many people take March Madness so seriously? Obviously, the excitement and potential winnings draw many in, but what factor illuminates the love of March Madness for people across the globe?
Cam Kelly, a junior at Liberty, believes the 'Madness' comes from filling out brackets along with the unpredictability of the tournament itself. When asked of a favorite memory from the NCAA tournament, Kelly points to the epic clash between undefeated Kentucky taking down his favorite team: the Notre Dame Fighting Irish in a nail-biting Elite eight game in 2015.
"My favorite March Madness memory was when Notre Dame played undefeated Kentucky in the elite eight and lost by four," explained Kelly, "even though we lost, it was crazy to see a back and forth game like that."
When asked if he would rather play for money, Kelly had an interesting take. He said, " I would prefer being in a bracket league playing for money because the chance of winning the pot is an opportunity hard to pass knowing you have a chance to win a lot of cash."
According to Duke University Mathematics Professor Jonathan Mattingly, the odds of a perfect bracket are one in 9.2 quintillions or 1 in 9,200,000,000,000,000,000.
Yet, this does not deter people from participating as roughly 70 million brackets are filled out per year. With sports betting becoming legalized in a growing number of states, this total is almost sure to spike.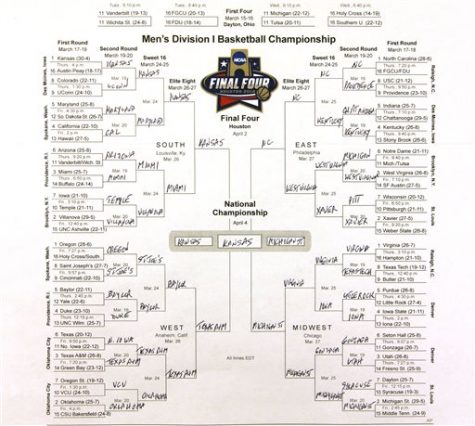 Another exciting part of tournament time is picking a winner. In recent years, there has been a wide variety of opinions on who will be king of 'The Big Dance', but this year many fans have a similar vision on who will come out on top.
Junior Luke Humenay explains, "I picked Duke to win it all this year. If Zion [Williamson] plays his best basketball and Duke shoots a good percentage from three I think they will be very hard to beat."
Duke had opened the tournament as the second highest favorite to win the dance since undefeated Kentucky in 2015. Just like Calipari's Wildcats, Duke did not live up to the hype as their tournament run was stunted in the elite eight to a surging Michigan State team. As Auburn, Texas Tech and Virginia rounded out the Final Four, this year saw a team win it's first national championship as Tony Bennett's Cavaliers stole the show. As always, March Madness was stunning and just like myself, I hope all of you can't wait for it next year.