The Diversity Club hosts another fantastic Multi-Cultural Fair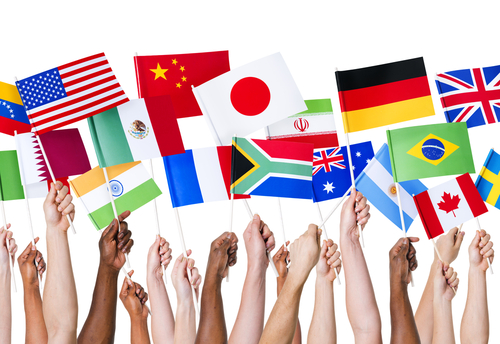 The annual Multi-Cultural Fair, put on the by the Diversity Club displays the cultures of around 20 countries with themed posters, food, music, and games. This is the second year the fair took place on a school day allowing students to easily attend.
The Diversity club members volunteered to take on different positions in order to successfully run the event. Some club members handed out traditional foods originating from all over the world, while others shared their country posters. Many students created presentations for a country they have a connection with, whether it's having family from a specific country, or being a foreign exchange student from a country
"I came from this country, and coming from that country and living here for only a year has a responsibility that I have to represent it," says Charlotte Leonhardt. Leonhardt is an exchange student from Germany, and she has been living in America for only about a year. She decided to create a display on Germany.
"My display took a couple of afternoons to make," explains Leonhardt.
Other students in the diversity club volunteered their time to help as well.
"This year I think we had 18-20 country tables, as well as another 10 activity tables," says Mrs. Heckman, the staff leader of the Diversity Club.
The student volunteers who didn't highlight a country had a variety of other jobs they could do.
"Some of the kids were in charge of the potluck tables, so they were calling restaurants looking for different foods, some of the kids made their own food, some of the kids are in charge of trivia and games tables," explains Heckman. "We really tried to divide, and create a better experience than last year".
Since this is the second year the diversity club has hosted this event on a school day,  members focused on accentuating the best parts of the first year, as well as fixing the few small problems that there were.
"One thing we did differently was to use the whole gym instead of just half of it, just because we had so many people last year. We expanded our food table because people liked it, and we added more games and language tables because people liked the interactive stuff last year," says Heckman.
The Multi-Cultural Fair did a great job of familiarizing the students of Olentangy Liberty High School with foreign countries that are hard to reach within the confines of Powell.
About the Writers
Bennett Abeson, Staff Writer
Hello! My name is Bennett Abeson, and I'm a junior at Liberty. This is my first year in newspaper journalism. I am extremely into rap music, and I enjoy...
McKenna Christy, Co-editor-in-chief
McKenna Christy is a junior at Liberty and this is her second year writing for the Patriot Press. She enjoys writing about and for the community along...