How to Bullet Journal: Beginners Edition
Tired of your boring planner? Need to spice up your diary. Want to add pizzazz into your sketchbook, but not want to carry each one individually? Then I present to you the answer to all of your problems: the bullet journal. Getting started with it can be tough so with a little guidance to help organize the rest of your life, you'll become a pro in no time.
The bullet journal is an analog system designed to be a to-do list, diary, notebook and sketchbook. In 2007, after getting the inspiration from a frantic and unorganized coworker, Ryder Carroll, a New York-based designer, created the bullet journal with the goal to track the past, order the present, and design the future. Many people got inspired after Carroll launched bulletjournal.com, a step-by-step help guide for how to start a basic bullet journal.
When starting your bullet journal, the most important thing to know is to NOT overdo it. The first year should be used to work out different kinks that you may have while trying to transition into a bullet journal. The more comfortable you become, the more fun and exciting spreads you can add in.
A bullet journal is very simple to start, and it is broken up into only four different categories: future log, monthly spread, rapid logging and collections. These categories get more and more specific as they go along. The first part of your bullet journal should be your future log which is a quick breakdown of things that you know will happen in the future. This is for when you haven't made your monthly plan yet. When you get to your monthly spread, it should give you a more narrow look at what you have in that one month. After this, your rapid logging is a more specific plan of what tasks, represented by a dot, are in store for you in a certain day or week. Finally, collections are a group of single or double page spreads that don't fit into any of the other categories. Something like "My Year in Pixels" or "Where I Went This Year" would fit into there. Collections usually go anywhere in front of your yearly spread. Here's a further breakdown of how to plan out these categories:
Future log- divide X amount of pages into a total of 12 different slots. Each slot represents a month. Put the name oft he month in each slot. *OPTIONAL: Draw a small calendar in each slot that corresponds to the month.* If your monthly plan for that month has not yet been made, put future dates into the corresponding slot to then look back at when planning in the future.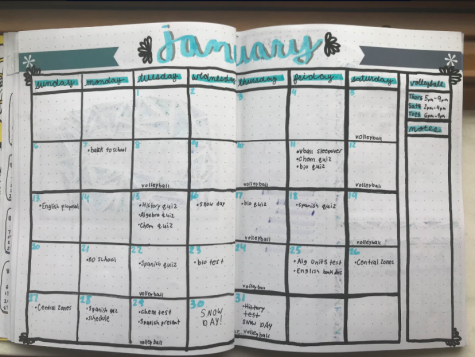 Monthly Spread- divide page into X amount of days per that month, leaving room for notes and to write the months name. This will create your calendar. Each box should correspond with a day to be able to write down any kind of important information. It shouldn't be a full breakdown, only the top key things that you need to know
Rapid Logging- Divide you page(s) into seven different sections. *OPTIONAL: make eight sections, having one of them as a note and add a small calendar at the bottom.* Write down the date and the day in each one of the seven sections so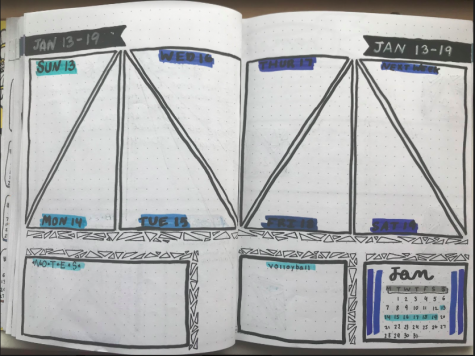 that it corresponds with the days in that week. This is where you can put each daily task that you have and what you will get done in that day. Also in rapid logging, different symbols mean different things. For example a "–" represents notes,  "*" means priority, "!" means inspiration, a "•" represents tasks, and a striked-through dot means canceled.
Now that you know how to plan it out, you need to know what supplies you need to get. First thing first is the journal. Any kind will do, whether it is dotted, lined, grid or plain. They can range anywhere from four to 50 dollars, so find something sturdy and reliable. Journals like a Minimalism Art Classic Notebook Journals are on the cheaper end, but are still great quality. Olive and Archer notebooks, though, are on the other end of the scale being a little bit pricey-er, but are sturdy and can withstand just about anything.
When it comes to pens and other stationary, don't go overboard. Sure, getting pretty calligraphy pens are great, but too many of them can be a little overkill. Some pretty great products that are still good in price are Tombow Fudenosuke Brush Pens, Crayola Supertip markers, Sakura Pigma 30062 Micron pen set and Sakura Gelly Roll Classic 08 White Pens. Yes, I know white pens are weird and you might not see the purpose of them, but these pens look great on a black background or they can be used as a make-shift wite-out.
Overall, your bullet journal should reflect your likes and interests. You should do what works for you and create what you like to create. In the end, the purpose should still be to organize your life and help you plan for the future. Happy journaling!