Jacob Myers' 2019 NFL Mock Draft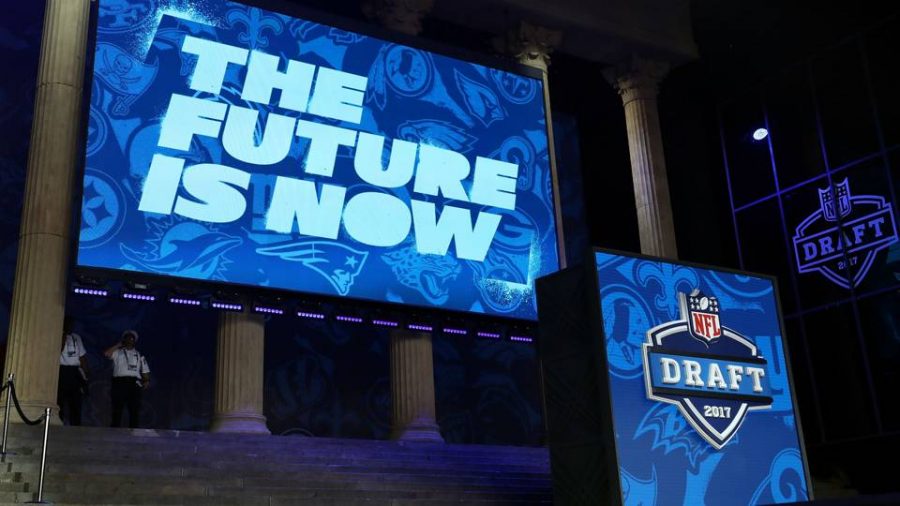 Pick 1: Arizona Cardinals
Selection: Nick Bosa, Ohio State (Defensive End)
The overall best player in this draft coming out of college. He has the skills of Joey, while also being faster and better in the big moments. Aside from my Ohio State bias, Bosa will bring efficiency fast to a team with a struggling defense.
Pick 2: San Francisco 49ers
Selection: Josh Allen, Kentucky (Defensive End/ Linebacker)
The 49ers, for the most part, have a pretty great offense with Jimmy Garoppolo, Matt Breida, and possibly Antonio Brown next season. But, their defense is a part of the lower half of the league. Allen is a proven leader and fighter, and he would fit right in in San Francisco.
Pick 3: New York Jets
Selection: Quinnen Williams, Alabama (Defensive Tackle)
If Josh Allen falls to three, expect him here. But passing up on Allen seems wrong, leaving the Jets to have Williams. The Jets have long needed a pass rusher up the middle, and Williams is a great for Adam Gase's defensive style.
Pick 4: Oakland Raiders
Selection: Rashan Gary, Michigan (Edge Rusher)
The Raiders came in dead last in 2018 with 13 sacks – they need an edge rusher. The Khalil Mack hole has been felt. What is the answer? Take the best player out of his high school draft class, and bring back a strong Oakland defense. A first step in the right direction
Pick 5: Tampa Bay Buccaneers
Selection: Ed Oliver, Houston (Defensive Tackle)
I expect Bruce Arians to trade down from this pick if none of the previously mentioned players remain, but if not, he'll see raw talent in Ed Oliver and make a risky pick. His build isn't 100% NFL ready, but his success in college will certainly be able to turn heads.
Pick 6: New York Giants
Selection: Dwayne Haskins, Ohio State (Quarterback)
The first offensive player of the draft is also the first quarterback taken. Haskins threw fifty touchdowns against solid defenses, and he would pair very well with Odell Beckham and Saquon Barkley. Build a young core and let it play out. Out with Eli, in with Dwayne.
Pick 7: Jacksonville Jaguars
Selection: Kyler Murray, Oklahoma (Quarterback)
Jacksonville needs to space themselves from Blake Bortles, who has struggled for the most part of his whole career. The Jags are trying to build a young core with players like Fournette and Dede Westbrook, and Kyler Murray is a relatively unproven (against solid defenses) quarterback who would be a risky pick, but he has a possible high-payoff.
Pick 8: Detroit Lions
Selection: Greedy Williams, LSU (Cornerback)
Detroit is probably losing Ziggy Ansah this offseason, so there is a high chance of them taking an edge player like Clelin Ferrell. But, Williams seems to be a very conservative pick who can give great effort and efficiency for a lacking defense.
Pick 9: Buffalo Bills
Selection: Jawaan Taylor, Florida (Offensive Tackle)
The Bills want to develop Josh Allen into a great quarterback, and no good quarterback can have a bad offensive line. Taylor is a safe pick, and he is the best offensive lineman in this class.
Pick 10: Denver Broncos
Selection: Drew Lock, Missouri (Quarterback)
Denver is in a bit of a mess with their quarterbacks, and John Elway won't back down from a potentially great quarterback. He was very inconsistent in college, but if Lock can improve his mistakes, he can mature into a solid quarterback.
Pick 11: Cincinnati Bengals
Selection: Devin White, LSU (Linebacker)
In total last year, the Bengals defense was atrocious, and they will pick a new defensive player. If Greedy Williams is still on the board, expect him. But, Devin White is a solid linebacker that Cincy needs.
Pick 12: Green Bay Packers
Selection: Josh Jacobs, Alabama (Running Back)
Green Bay suffered last year, and Aaron Rodgers could use another option on offense to take the load off. Josh Jacobs is a proven running back, and he will enjoy playing for a playoff spot with the Packers.
Pick 13: Miami Dolphins
Selection: Clelin Ferrell, Clemson (Edge Rusher)
Miami will look to stick with Ryan Tannehill for one more year with a new coach, so taking the best remaining player is the best move. Alos, they had a giant hole where Ndamukong Suh filled last year, and Ferrell could help fill it.
Pick 14: Atlanta Falcons
Selection: Christian Wilkins, Clemson (Defensive Tackle)
The Falcons struggled all around last year, so I would expect them to take the best available player in the draft, and Christian Wilkins can strengthen an already decent D-line.
Pick 15: Washington Redskins
Marquise Brown, Oklahoma (Wide Receiver)
Alex Smith did a lot last year with seemingly a not-so-great wide receiving core. Adding another receiver will give the Redskins another option, as well as proven great speed and route running.
About the Writer
Jacob Myers, Sports Writer
Hi, I'm Jacob Myers, a Senior here at Liberty. I'm a proud Browns, Cavaliers, and Buckeyes fan. You'll see me write about sports on here, and I hope you...