Deepening Disconnect
Both students and administrators grapple with the racial incidents that have occurred in the district.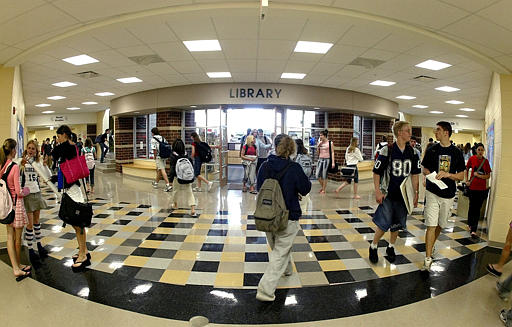 She sat in the back of her math class, carefully listening as the teacher explained how to calculate the circumference of a circle. The classroom was silent with the occasional rustling of paper as students scribbled down notes. The door suddenly opened and a student walked in, leaving the door ajar. She heard hurried footsteps outside the classroom as if someone was running. Then, she heard as a student ran by, shouting the n-word as they passed. The teacher snickered then got up to close the door. The class resumed, but she could no longer concentrate on the notes that lay in front of her. All she heard in her head was the n-word – repeated over and over again.
A few years later, Jade Davis, now a junior at Olentangy Liberty High School, still remembers the incident vividly. She remembers having to go the bathroom to cool off because she could feel the tears pricking her eyes. Yet, for Jade Davis and many other African Americans in the Olentangy School District, these kinds of racial incidents were by no means a rare occurrence.
For Davis, who has been in the Olentangy district since kindergarten, her experience with racial incidents started at a young age and escalated as she got older.
"I would hear things when I was younger, but I didn't really know what they meant," Davis said. "If someone would say a remark, I would be like "oh they're just talking". But I think it really started [getting] bad in sixth grade. That was the first time that somebody called me the n-word."
The incidents only continued since then from Davis being called the n-word multiple more times to hearing a variety of other racists remarks directed towards her. Davis explained how she was once a group chat where a group of students called her a monkey and commented "who let the monkey out of its cage?"'
However, Liberty is not the only school in the district that has to deal with these kinds of issues. African American students at Olentangy and Orange high schools have also expressed concerns over the racial incidents occurring in their schools.
"I've done my best to not isolate myself but kind of steer away from those people who have raised my eyebrows," Celeste Harper, a junior at Olentangy High School, said.  "but I have seen racism second-hand, and there have been microaggressions and just hearing disrespectful things [said] to my race besides hearing white people and everybody else say the n-word." When asked about the frequency of racial incidents in the school, Harper responded that they were more than she could count, and briefly followed up with, "More than there should be."
In Olentangy Orange High School, students have stated that similar incidents have also occurred.
"I don't know if I would consider it that I experienced it, but I just feel like I've seen a lot of discrimination and racism," Chioma Nwomeh, a junior at Olentangy Orange High School.
Although many students may not be cognizant of the experiences that African American students have personally faced, most are aware of the few racial incidents that have gained attention among the student population. In September of 2017, offensive graffiti containing racial slurs was left on one of the bathroom walls at Liberty. A couple months later, in January of 2018, there was a video circulating around social media that showed a student from Orange screaming the n-word.  
Of course, racial incidents aren't unique to the Olentangy district. Schools across the nation had racial incidents occur within their wall as well. According to the National Center for Education Statistics, in 2015 (the most recent year that data is provided for), about 27 percent of students reported seeing hate-related graffiti at school during the school year, and about seven percent of students ages 12-18 reported being the target of hate-related words at school. Of these hate-related words, race was the most frequently reported characteristic. And even if it wasn't explicitly shown through racial incidents, racial issues would show themselves in the form of implicit biases and microaggressions.
"When we look at some of the research that shows us when we're talking about implicit bias and education, at least in K-12 education, we see that there is a prevalence of racial bias," Preshuslee Thompson, who works as a training and research specialist at the Kirwan Institute for the Study of Race and Ethnicity, said. "We have students of color get disciplined at higher rates. Specifically, in Ohio, black girls are the most disciplined group."
These racial incidents can affect the school community in many ways. Thompson explains that these incidents can cause students of color to no longer feel safe or comfortable at school. It can also cause friends of these students to feel as if they can not safely stand up for their peers.
Thompson further explains that whenever an environment no longer feels safe, "it can create space for divisions among the community".
When asked if she felt safe at school, Harper's response was succinct, "Honestly, no. But really I never have. I do have my certain friends, but I have never been comfortable attending Olentangy Local Schools. It's a cultural thing. It's social. It's a lot of factors, but some of it does boil down to race."
Davis also had similar feelings.
"I don't feel a part of the community at all, like the Powell community. I don't consider that my community or like my friends," Davis said.
The Appropriate Response
As racial incidents continue, one of the questions asked by both students and school officials is how to respond to these incidents. It appears that the students who experience these events and the school officials who handle the cases are on different pages as to how racial incidents should be addressed.
Some students believe that school officials tended to avoid the subjects instead of giving what they believed to be the appropriate response. Davis expressed her frustration at repeatedly going to school officials about the incidents she faced and feeling as if she was being ignored.
"Once you have a first event that occurs,  I feel like you should take steps to try and get that to not happen again. But it just got worse after that…they kind of ignored it," Davis said, "Mr. Warfield was like "Don't tell anyone. Don't tell anyone this happened. Don't tell anyone who it was" and…I feel like I should tell people that it happened. It's like awareness."
Racial incidents kept occurring, but Davis did not feel like the school was taking measures to prevent the incidents.
"I would stop saying things. I wouldn't go to Mr. Warfield anymore if something happened because I knew it would just be a waste of time," Davis said. "I don't think they want to do anything. They [would] just rather push it under the rug…And then they don't expect the students to say anything."
Harper also felt similarly saying that she felt the responses were more about "avoiding the subject and its sensitivity" and had "a lack of empathy".
On the other side, however, the school officials are bound by certain limitations that restrict their responses in situations like this. For examples, due to privacy rights such as FERPA (Family Educational Rights and Privacy Act), school officials are not allowed to talk about how they decide to discipline the students. This contributes to the assumption that no action is being taken, even though school officials are likely to be dealing with matters.  
"As administrators, rarely do we get to tell our side of the story because it always involves people's privacy rights," Olentangy Superintendent Mark Raiff explained.
Sometimes, administrators may not be aware of incidents occurring in school because it is not brought to their attention which further contributes to the perception that the issue is being ignored. However, William Warfield, the former principal of Liberty and now a curriculum supervisor for the district, says that when they are made aware of the incident, they will address it every time.
"
…We need to acknowledge the harm that was done. Acknowledge that it hurt them. Acknowledge that it was wrong…"
— Preshuslee Thompson
"If I'm made aware of it, we're going to, without a question, have a conversation and we're going to address the situation with the person who's done it, and we're going to have a conversation with the person who has had the thing said to them. It's not like we want to slide anything under the cover or under the rug like that," Warfield explained. "One of the things you definitely want to do is you want to address the situation and make sure [you're] doing the right thing –  to make sure that our students feel comfortable."                                                                         
When it comes to students like Davis being told "not to tell anyone", Warfield explains that it is "not necessarily about not telling" but rather wanting "to find out the truth". When school officials hear about an incident, they first need to get accurate information by investigating the situation so that they are able to make a decision.
"We want to make sure that we don't have rumors being spread or we're getting false [information] from people based off of other people just spreading rumors," Warfield said. "…People start to change stories based off of the information they have, and we always want to try to dive in and get the truth. So when we say that, it's not to try and cover up the situation. We want to be able to investigate the situation as much as possible."
However, Thompson suggests that when racial incidents do occur, the best course of action would be to first acknowledge the action rather than focusing on intentions behind the incident.
"When a student comes and they share with you that they have experienced an incident of bias, no matter what type of bias that is, we need to acknowledge the harm that was done. Acknowledge that it hurt them. Acknowledge that it was wrong," Thompson said. "And then from there, addressing it with the entire school. Not necessarily breaking anybody's privacy, but if you know that there are a lot if incidents of racial bias happening at your school, you should probably have a training for your students…help them learn how to have conversations about race."
In March of 2018, a group of African American students stepped up to bridge the gap between themselves and the district administration. To make sure that their concerns were indeed heard, the students presented their own experiences directly to the district school board at one of the board meetings. The group shared their own experiences with racism and also asked the district to do more to address the prevalent racial harassment in the schools.
"That was pretty heartbreaking, and I think kids can be really cruel," Mindy Patrick, the vice-president of the School Board (President at the time of the March board meeting), said, describing how she felt when she heard the students' stories. Patrick, who has a son in special education, has witnessed some of the unkind incidents that students can encounter. "I guess I wasn't shocked because I do think that kids are capable of being cruel to each other," she said.
The Factors
It may be hard to pinpoint one specific reason why some individuals act in the racially insensitive manners that they do. In fact, it is likely that there is not one sole factor that contributes to this behavior, but rather a multitude of factors coming together. Raiff, who has been working in the education sector for more than 30 years, says that he still can't understand why some students take the actions they do.
"Most of the time, when I would have a student in my office […] I'd ask them to explain why they did what they did. They started with 'I just didn't think…'" Raiff said. "I think it's a part of the adolescent developing brain. [The students] don't understand the long term consequences. Maybe it is a learned behavior. Maybe it is just who they are, and that's who they are going to be."
Patrick believes that these actions stem from learned behavior with the culture and environment at home being a significant factor.
"What's the conversation? What's the culture like at home? What do you tolerate? What do you not tolerate?"  Patrick said. "I think that is the root of it."
Implicit biases and a lack of diversity in the school district may also be root factors responsible for many of the racial incidents.
Implicit biases are attitudes or stereotypes that form from being exposed to repeated messages, according to Thompson. These biases are likely to be a contributor to the microaggressions and unconscious racial comments made in schools. When these implicit biases are paired with other factors such as a lack of diversity, they can serve as the basis for more explicit, intentional incidents such as using a racial slur or the use of explicitly derogatory language.
A lack of diversity is not just regarding race but refers to all the different aspects of identity. Without diversity of identity, Thompson said one issue that arises is not being able to build lasting, meaningful relationships with those who hold different racial identities.
"Without that diversity or being able to interact with people who might be from a different race than you, who might have a different belief system than you, without being able to interact with them on a one-on-one basis, you'll be able to perceive them based off stereotypes or based off maybe what you saw on TV or based on what you heard about them. You wouldn't be able to really perceive them based on your own experiences," Thompson said.  
One look at hallways of Liberty with its sea of white, and one can easily recognize the lack of diversity in the student body. While 14 percent of the total student body consists of minority students, only 2 percent of the student body is African American. The other two Olentangy high schools fare better than Olentangy Liberty but not by much (no data could be found on the new Olentangy Berlin High School). African Americans comprise 3 percent of Olentangy High School's total student body (with a 17 percent minority enrollment) and 7 percent of Olentangy Orange's student body (with a 24  percent minority enrollment).
For Nwomeh, who had moved to Olentangy from Westerville, the racial demographics were particularly evident.
"I left a place…where [the student body] was like a third black. My classes had black people in them. I remember looking up the demographics before I moved, so I knew that it was not going to be anywhere near what I had experienced in middle school (back in Westerville). But actually experiencing it and not seeing as many black people, it was a shock. It was actually like a culture shock. I wasn't prepared for that," Nwomeh said.  "And in some classes like being in a history class or whenever we're talking about topics like slavery and you get those ignorant comments, I feel like I'm representing the black community even though it shouldn't be like that."
The lack of diversity in the Olentangy district is not only confined to the student body. It can be found in the staff members as well, leading to even bigger implications.  
Similar to how students might form biases based off overgeneralizing stereotypes to misconstrued perceptions, adults are able to do it as well. In fact, the racial biases that teachers hold can, in fact, become more harmful due to the power dynamic existing between students and teachers.
"So when the teacher is expressing a racial bias and let's say it comes out as a microaggression, it may do more harm because we might look at them as leaders—our mentors—and not expect that from them," Thompson said.
Glennon Sweeney, a senior research associate at the Kirwan Institute for the Study of Race and Ethnicity, also underscores the importance in having staff diversity.
"It is incredibly important for children to have teachers that look like them," Sweeney said. "It is also important for children to have mentors that don't."
Much research has been done on the benefits for students to see teachers of all types of different races and for students to learn with people from all different types of backgrounds.
"Bringing people together and understanding these differences is so important," Jacqueline Merkle, the curriculum supervisor of equity and inclusion at Olentangy, said.
However, Patrick expresses concerns that the lack of diversity at Olentangy may be hindering this understanding.
"We're going to send our kids all over to go to college, and then they are going to go all over the world to go to work," Patrick said. "…and I don't feel like they are necessarily prepared for that because we are such a small and white community."
Past, Present and Future Actions
The district has taken numerous steps to address the racial incidents that have occurred as well as the lack of racial diversity. In response to the school board meeting in March, the district held a Diversity Community forum in April to identify the root of these incidents and potential ways to address it and followed up with a Diversity Committee Action Plan.
It had also, per request of the group of students in March, made changes to the student handbook. The handbook now says that intimidation, bullying, sexual harassment and bullying "will result" in disciplinary action such as a suspension whereas, in the past, it had said, "may result".  
"It's a definitive step in the right direction. I mean is it a cure-all? No, I don't know if that is necessarily a cure-all. But, to just start making a move to try to adjust some of those things, and to try to bring awareness, I think it is a good step," Warfield said, referring to the handbook changes. "We need to continue to have those conversations…to not just push it on a back burner. I think it's just something we have to continue to work on, not just as a school district, but as a society."
Many initiatives have also been taken to educate the teachers such as bringing in different speakers to talk to the educators about teaching tolerance and teaching hard history.
The district has also been actively working to increase the diversity of the staff members by making diverse hirings a focus of the administration. While Raiff says that he firstly looks for the best candidates, he recognizes that the diversity of the staff members is low. Increasing the diversity of staff, however, can be difficult because all the local school districts are choosing from a small pool of candidates with not much diversity.
For example, Patrick explained that before Olentangy Berlin High School opened, the school was looking for new staff and had gone to a job fair at Bowling Green. As soon as the fair opened, the school had almost 80 people in line vying for positions. When Patrick asked how many diverse candidates were in line, she was told there was "not one". However, despite the challenges, last year was one of the best years in diverse hirings with 11 percent of the new staff being diverse.  
While strides have been made in increasing staff diversity, increasing diversity in the student body remains difficult. A school district can not control who chooses to raise their children in the school district or not. Schools have historically been segregated due to a myriad of government and real-estate policies such as restrictive covenants, redlining, blockbusting, steering and zoning. Suburban school districts like Olentangy have historically had majority white populations while inner-city school districts like the Columbus City School District have had majority black populations. Sweeney explains that African Americans aren't particularly inclined to move into a community that has an overwhelmingly white population like Olentangy. Thus, the natural movement of families does not appear to be changing this racial division in schools anytime soon.
"
I think we would all benefit from a culture change…We perceive things the way we grew up. All of us need to be more comfortable at having difficult conversations in order to grow."
— Jacqueline Merkle
"This was a situation created entirely through policy," Sweeney said referring to the segregation of school districts. "And it will require policy to change it."
Sweeney says policies that are inclusive to socio-economic differences can help increase the socio-economic diversity in communities like Olentangy. According to her, the current system that exists when in comes to funding schools or housing policies causes schools and communities to become increasingly stratified and will continue unless some change is made. She also believes that a school district can take certain steps to promote diversity within the schools.
"There's a lot of work that can be done examining structures and cultures within a school district or within a city," Sweeney said. As an example, Sweeney and her team had been working with the Upper Arlington School District to think about their culture and be more open to diversity after a couple of racially charged incidents had occurred in the district. She also believes that a major change that needs to occur is a change in culture with the first step is educating the public
"People need to understand why they should care," Sweeney said.
Merkle also believes that a change in culture is necessary, not just for the students in the district, but for everyone.
"I think we would all benefit from a culture change," Merkle explains. "We perceive things the way we grew up. All of us need to be more comfortable at having difficult conversations in order to grow."
One major school initiative that is working to change the culture, according to both Patrick and Merkle, is the ONE COMMUNITY Conference.
Started in 2014 the ONE COMMUNITY Conference is an annual district-wide event that allows students and other visitors to learn about a variety of different backgrounds and discuss some of the most pressing issues in society. This year's conference gives attendees the opportunity to learn about equity and inclusion from national experts, local leaders and students in the district.
"I think that if more students attended something like the ONE Community Conference, then they would learn a lot of things and be less ignorant," Patrick said. "…I think that's a where a lot of this comes from is ignorance. You just don't know or don't understand."
Students in the district have taken their own steps to the change the district as well. One such initiative is the student-led Black Olentangy group that arose out of the board meeting in March. The group welcomes all people regardless of race, and it had its first meeting in September of 2018. The group focuses on the three C's of community, culture and celebration.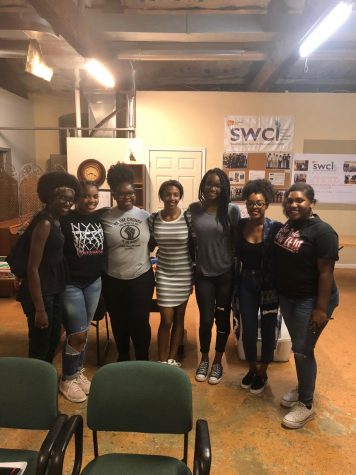 "We really wanted to have a place where everyone can feel welcome, and we can embrace ourselves," Davis, who is the President of Black Olentangy, said. "…In the schools, we feel like we have to put up a person who's not really ourselves to please other people. We just want to be ourselves and celebrate who we are."
With more awareness surrounding the racial incidents and multiple initiatives to promote diversity in the district, only time will tell how the culture of Olentangy will change and whether it will fix the rift that racial incidents have created.
"It's not going to change tomorrow," Patrick said. "Culture change takes a while."
For more information on the ONE COMMUNITY Conference or if you want to register for the conference, visit this link:
About the Contributor
Sai Rayala, Editor-in-chief
Sai Rayala is a junior at Olentangy Liberty High School and this is her first year with the Patriot Press. The previous year, she was a staff writer for...