Review of "Bohemian Rhapsody": an entertaining biopic that's worth seeing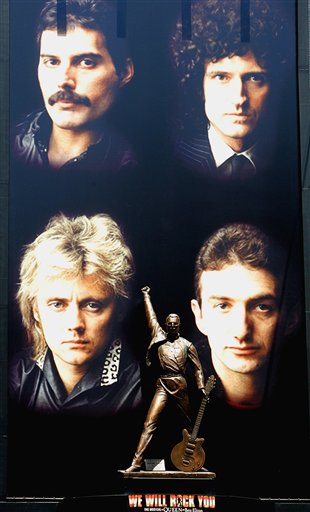 Davis MacKenzie, Staff Writer
January 4, 2019
Hang on for a minute...we're trying to find some more stories you might like.
In November, the movie Bohemian Rhapsody was released and was fairly successful at the box office and with general audiences. Bohemian Rhapsody was a movie adaptation of the band Queen from the start of their career to their legendary performance at Live Aid. The star of the film is legendary Queen frontman Freddie Mercury who is played by Rami Malek, star of TV-thriller Mr. Robot. Mercury is portrayed in such a convincing manner that both audiences and critics alike praise Malek's Oscar-worthy performance. Throughout the movie, they did a good job of showing how Freddie Mercury had to deal with his sexuality and how it affected his personal life and his relationship with the band.
The casting choices of the four band members were also outstanding and, as time moved on, so did the style of the guys in the band and the certain things that they would wear at concerts. One drawback some fans have noticed is keeping continuity, particularly where certain songs and concerts belong on the Queen timeline. For example, one scene captures the magic of their first American tour in 1974, set to the backdrop of "Fat Bottomed Girls." While the film claims the tune was produced that same year, in reality, "Fat Bottomed Girls" wasn't released until four years later alongside other famous songs such as "Don't Stop Me Now" and "Bicycle Race".
Now let's talk more about the acting in the movie. It was simply outstanding throughout the whole film. Rami Malek nailed every little detail about Freddie Mercury, from the way he walks to the way his hands move while he is playing the piano. Then the performance he did of the Live Aid concert was phenomenal. If you have ever seen the original performance of Queen at Live Aid and then you watch the movie, you may think they just put in the actual footage but no- they didn't! That is how good of a job they did reenacting that scene and you will just be baffled by how close it looks to the real show. But it wasn't all just Malek who did a good job on portraying who they are supposed to be. Gwilym Lee, who portrayed Brian May in the movie (the lead guitarist for Queen),  also did a good job of showing how May would stand when they were on stage and his movements while he would be playing the guitar. Same goes to Joseph Mazzello who played John Deacon of Queen, their bass guitarist.
However, there are still a few things I would change or things that I wasn't too hot about in the movie. First off, I feel like they could have shortened it just a little. It is a good movie and moves along, but as it starts getting closer to the end, you feel like it drags on a little bit and should be over. I absolutely love their Live Aid performance, and I understand why they showed it in the movie, but I feel that they could have shortened the scene just a little (even though they did by leaving out "Crazy Little Thing Called Love"). I just didn't think that it was enough to shorten the film. They should have shown them do all of the songs but just shorten them down so we could get a taste of the performance but not have to sit through the whole thing.
Overall, I would say that if you are a Queen fan, go see the movie. If you are just a movie fan and are looking for a good movie to see, go see the movie as well. It will make you feel sad at certain moments and then put a smile on your faces at other moments. And, when you are walking out of the theatre, you will most likely be going Ay-oh!