How snow days at OLHS really happen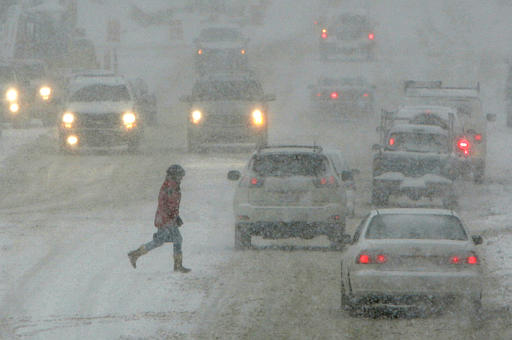 Lydia Colvin and MaKenna Crary
December 12, 2018
Hang on for a minute...we're trying to find some more stories you might like.
With winter weather coming, students at OLHS are looking forward to the possibility of a snow day. However, many might not realize that there is a long process and many factors that go into the decision to cancel or delay school for the day.
Olentangy superintendent Mark Raiff and other members of his team constantly monitor the weather. In order to make the most informed decision possible, the team has to go through many processes.
"We [my team and I] start driving to our designated areas of the district at approximately 4 a.m. so we can assess the road conditions throughout the district," Raiff explains.
After driving through these areas, his team assesses whether or not the road conditions are getting worse or better. If they decide that the road conditions are safe enough for buses and student drivers, they will keep the school open. If not, they will delay or cancel school.
Along with road conditions, temperature also plays a role in the district's decision.
"With regard to the closing or delaying for just temperature, I start thinking about it at temperature between -10 and -20," Raiff says.
As the district is so large, many of these conditions occur in one place in the district, but not in the other. A delay or closing could be called if the weather is fine in Powell but not in other parts of the district.
"Our district is really big, being 95 miles, and so sometimes we will get a two-hour delay, but in Powell, the weather is fine. But in other parts of our district, the weather is worse and the superintendent has to take that all into consideration," OLHS principal Mike Starner explains.
The district usually tries to make a decision between 5 and 5:15 am so that students know before they have to leave for school. This decision is broadcast in many different locations.
"The first thing I do is send a tweet so students who follow me on twitter @SuperOLSD are the first to know. Members of our communications team alert the media including all local TV and radio stations who report closing and delays. We then start our calling, email and text notification process," Raiff explains.
Snow days affect both classes and sports. Many teachers have to shift lessons or cut out days from their schedule in order to accommodate for the snow day. Sports can be canceled due to a snow day, but if conditions get better, many sports will still compete or practice on that day.
"If the schools cancel classes, after-school activities may be impacted. The weather is assessed throughout the morning so after school activities may or may not be canceled," Mr. Krosnosky, the head swim coach at OLHS, explains.
The decision to announce a snow day has many steps and it impacts both the classroom and sports. Yet, students don't have to worry about make-up work anytime soon. Because of new laws, our school would have to cancel school for 35 days in order for us to make-up days. So, for those of us who love snow days, this is good news.