NFL Week 10 Predictions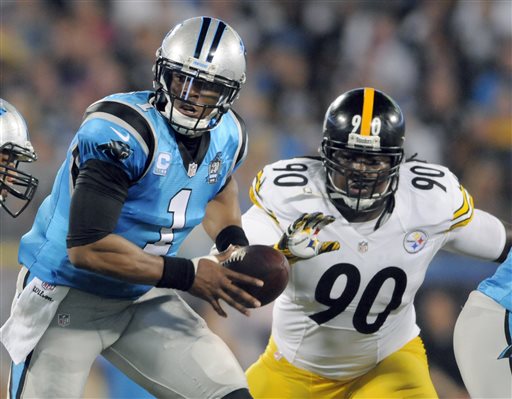 Carolina Panthers at Pittsburgh Steelers (8:20 Thursday, FOX)
Thursday night this week matches up the 6-2 Panthers and the 5-2-1 Steelers for one of the best non-Sunday games of the whole year. The Steelers staggered in the beginning of the season, at one point being 1-2-1, and tied for last in the division. But since then, the Steelers have won four straight in demanding fashion. The wins can be largely attributed to the offensive efficiency from rising stars like JuJu Smith-Schuster and James Conner. And that's not all, with the three B's: Ben, Brown, and Boswell, who can come clutch in any situation and can never be counted out in any place, any time. On the other team is former heisman and MVP winner Cam Newton, who is having another great season after a subpar performance last year. He has led a team to a Super Bowl and kept it close before, and he can never be doubted. Both of the Panthers losses have come on the road at Washington and Atlanta, but both of those games have been within a possession. Compared to Ben's targets this year, Cam's are lacking. It's very hard to beat AB, JuJu and Vance; yet Cam does have Devin Funchess, DJ Moore, and Greg Olsen and you can't forget about Curtis Samuel. Last week, Samuel ran 104 yards in one play for a touchdown and also caught a touchdown en route to a win against Tampa. The game will come down to whether James Conner and Christian McCaffrey can have good performances, and I would guess that Conner is way more likely.
Final: 26-17 Steelers. Conner will punch in a small TD rush, and AB will haul in a touchdown. The Panthers will stay behind most of the game and try to have a late rally but fail.
New Orleans Saints at Cincinnati Bengals (1:00 Sunday, FOX)
The Saints are on an absolute roll. They knocked off two consecutive difficult opponents, the Vikings and the (previously) undefeated Rams. Now that the chaos is over, it's hard to see them losing any time soon. Yet, the Bengals look to stand in their way. Andy Dalton is looking like the side of himself that fans want to see, and with receivers like AJ Green and John Ross, it all makes sense. Yet, this week AJ Green is out with a toe injury, which will impact the Bengals greatly. On the other side of the football, the Bengals defense is 30th in the league in points allowed, almost allowing 30 per game, while the offense is only scoring 27. This differential was most apparent when the Bengals faced off against the Chiefs and lost 45-10. The defense needs improvement now if they are to stand any chance against Drew Brees' offense. If you have any doubts about the Saints' offense, check the first half against the Rams. The Rams defense is the most stacked in the whole league, and the Saints put up 35 on 'em in the first half. I don't see that changing against the Bengals rough and battered defense. Saints easy on the road. They haven't lost on the road yet, why do it now?
Final: 31- 23 Saints. Drew Brees will be Drew Brees, tossing deep balls to Michael Thomas, with Alvin Kamara running all over the defense and putting up big numbers. Saints to 8-1.
Seattle Seahawks at Los Angeles Rams (4:25 Sunday, CBS)
It's crazy to think that the Seahawks only a few years back won a Super Bowl by 35 over Peyton Manning. Now, the best part of the Seahawks is their touchdown celebrations. They're pretty good, especially the moves they pulled last week. I'd even say it will be the best of the season, barely ousting the Browns' Dragon Ball Z celebration. In this game, the Seahawks are projected to lose over 80 percent of the time, but they can still definitely put up a fight. Russell Wilson is always a threat for a big game, and when the defense steps up, they can be lethal. In fact, in the previous meeting, Wilson tossed 200 yards and three touchdowns. Jared Goff, one of this year's best players, in that game had a TD to interception ratio of 1:2. The Seahawks also won the running game. Chris Carson ran for 116, and Todd Gurley only ran for 77. But, Gurley had three touchdowns and Carson had zero, so those stats even out. The Rams were the last undefeated team in the league before matching up against the Saints, but they're still 8-1, and one of the best teams in the league. As stated many times in these predictions, the Rams are talented in all aspects of the field, and it's hard not to cover them and predict their scores. Coming off a loss, the Rams should look demoralized and play more aggressively, which will play for their advantage.
Final: 29-21 Rams. Goff and Gurley will get back on track and dominate all aspects of the field, in an easy win. Expect a sweet Seahawk TD celebration though.
New York Giants at San Francisco 49ers (8:15 Monday, ESPN / WatchESPN)
Woo-wee, this game is amazing. The 2-7 49ers face the 1-7 Giants in the battle of the fourth combined win between these two teams. Nick Mullens showed up last week on Thursday night against the (very worn down, yet sturdy) Raiders defense, putting up 34 points and 250 passing yards en route to a 31 point victory. Somehow, I have covered the Giants before in these predictions (only because they were playing on Monday night [wait, they have TWO Monday night games?]), and I'll say it again, the Giants have so much talent, yet such little happening. Odell and Saquon are generational talents at their respective positions, but something this year is causing the team to play horribly. It's easy to pin all of the blame on Eli, but Eli is still getting plays told to him. Even though he's not playing those plays well, you still can't put all of the blame on him. But I'm going to buy the Nick Mullens hype. He's got a great story to even be in the league, seized his first starting moment, and may even give Jimmy G a run for his money as  a starter.
Final: 24-17 49ers. Mullens will play as good as an undrafted third-stringer should (which is decent), and Eli will play like Jamarcus Russell. 'Niners will control the game the whole time and take a second straight W.
About the Writer
Jacob Myers, Sports Writer
Hi, I'm Jacob Myers, a Senior here at Liberty. I'm a proud Browns, Cavaliers, and Buckeyes fan. You'll see me write about sports on here, and I hope you...