The Reasoning Behind Bosa's Decision to Sit Out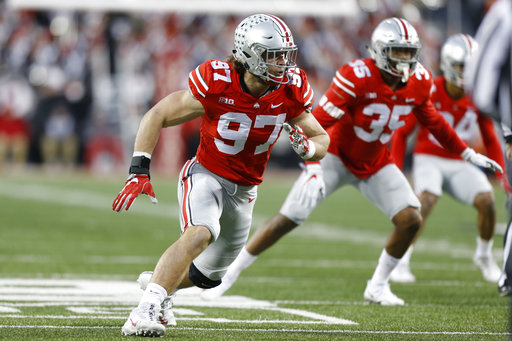 In the past couple years, sitting out of bowl games has become more popular amongst potential NFL prospects, in hopes of staying injury free before the NFL draft. Some of the most well known include Christian McCaffrey (Stanford), Leonard Fournette (LSU), Denzel Ward (Ohio State), Derwin James (Florida State), Jabrill Peppers (Michigan) and many more. However, this year, Mel Kiper's number one NFL draft prospect of 2019, Nick Bosa, defensive end from Ohio State, has decided to leave school for rehab and prepare for the draft. While Bosa is the first player to sit out for more than just a bowl game, his decision isn't one I necessarily disagree with.
From a business standpoint, this decision is ideal for Nick Bosa, who has missed the past couple weeks due to an abdominal injury that occurred against TCU in week three. His two options in this situation were to either try and rehab his abdominal injury (which is not easy to come back from) and possibly play in the last few games of the season, or sit out and not rush returning only to possibly re-aggravate or re-injure his abdomen. His decision should prove successful in the long run, as his current draft status should guarantee him millions of dollars pending he stays healthy and out of trouble. This decision also comes only a few years after Michigan Tight End Jake Butt decided to play in a bowl game just before the NFL draft and ended up tearing his ACL. He ended up falling from a potential first round selection all the way to the fifth round, losing millions of dollars in guaranteed money.
As a fan (especially of the Ohio State Buckeyes), this decision is heartbreaking. A talented player such as Nick Bosa brings a lot to the table, especially for a team potentially competing for a spot in the College Football Playoffs. This is why I understand many fans' frustration. However, there's some good that can come from this: first off, many younger guys on the Ohio State defensive line will get a chance to step up and make an impact such as Chase Young and Dre'Mont Jones. Many guys will also see significantly more playing time, helping the Buckeyes in the long run. This will give many young, talented defensive linemen lots more experience heading into next year.
So as many fans of the Ohio State Buckeyes are quite disappointed in Nick Bosa's decision, there's nothing more we can do but thank Nick for what he did during his time as an Ohio State Buckeye, and wish the best for him as he prepares for the next level. Everyone must realize that Nick did what was best for him, and his decision will allow him to have the clearest path to success in his future with football.