2018 Ryder Cup Recap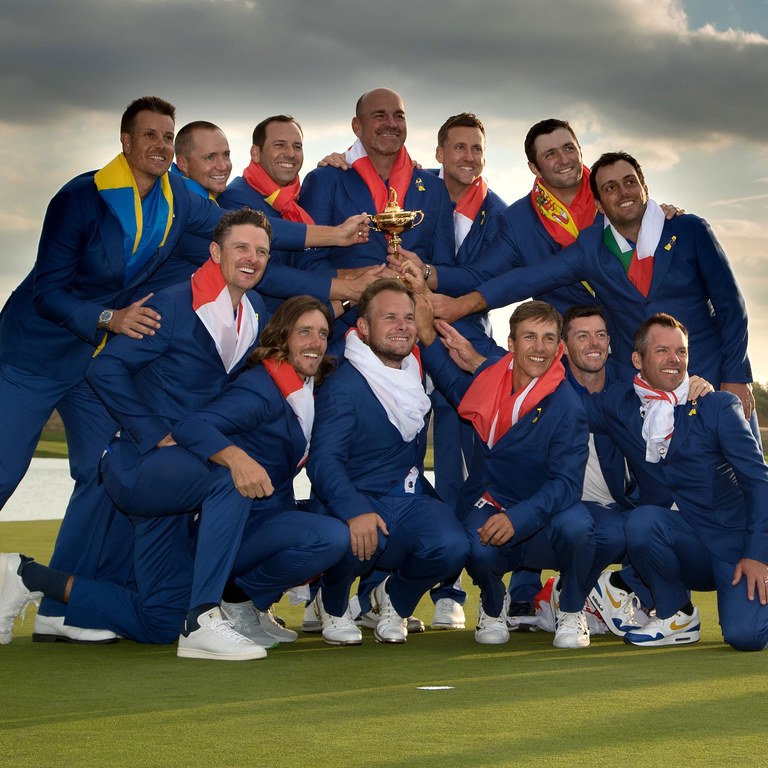 Every two years, the United States and all of Europe take part in a team-based tournament that takes the 12 best players from both respective regions and has them compete until either Europe reached 14.5 or the US reached 14. The format is simple. On the first day (Friday) in the morning, four groups played four ball matches, followed by four foursomes thereafter. Next, on Saturday, the same process repeats with morning four balls and afternoon foursomes. On Sunday, all twelve players compete in a one-on-one match against a single player from the opposing side. A win gives a single point for the respective team, and a tie leads to a half point for both. The scoring is not by number of strokes, but rather number of holes won. So, if a team is winning by three holes with only two remaining, the losing team is forced to forfeit the match. This scenario would be shown as: Player A def. Player B 3&2.
Coming into this year as defending champions, the US was favored in Las Vegas, even though the US had not won in Europe in over 25 years. Normally in golf, a "home course" does not exist, but yet during the Ryder Cup, Le Golf National in Paris, the Euros took hold of the momentum, boosted by their fans.
At approximately 2:00 A.M. United States time, the first match between US rookie Tony Finau and three-time major champion Brooks Koepka lasted European rookie Jon Rahm and FedEx Cup champion Justin Rose until the very last hole, with Finau and Koepka winning 1Up through 18, scoring the first point in the tournament for the US. Generally, that is how Friday morning went for the US, finishing 3-1. Dustin Johnson and Rickie Fowler defeated Rory McIlroy and Thorbjørn Olesen 4&2, and Jordan Spieth and Justin Thomas defeated Paul Casey and Tyrrell Hatton 1Up through 18. The US' sole loss came when (the most dominant pairing of the Cup, going 4-0) Francesco Molinari and Tommy Fleetwood defeated Tiger Woods and Patrick reed 3&1.
Yet, Friday afternoon went South very fast very quickly. The Europeans swept the Americans 4-0, with the smallest margin of victory coming as a 3&2 win by Henrik Stenson and Justin Rose over Dustin Johnson and Rickie Fowler. Ian Poulter and Rory McIlroy went down two holes very quickly, yet they won six out of eight holes to capture a 4&2 win over Bubba Watson and Webb Simpson. The other two wins came from Francesco Molinari paired with Tommy Fleetwood, and Sergio Garcia and Alex Noren. The Europeans entered the afternoon down two points, yet left up by two. The tides had turned in just a few hours.
The Europeans' momentum continued into Saturday morning. The Europeans ousted the Americans three points to one, with the duo of Jordan Spieth and Justin Thomas winning their second match as a pair. At that point, they had half of the US' points. Although, the US did last until the very end. No matches went to the very last hole, but the US' efforts were very noticeable, even though they could be confused for nervous scrambling. Tiger Woods and Patrick Reed were even through 10, but Molinari and Fleetwood won four of the next five holes to seal the deal. Sergio Garcia and Rory McIlroy lead by four through eleven, yet Tony Finau and Brooks Koepka cut the lead to one hole, but on 17 conceded to give the Euros a win, 2&1.
Saturday afternoon (as compared to the rest of the sessions) went well for the US. Justin Thomas and Jordan Spieth won their third match as a duo with a win against Poulter and McIlroy 4&3. The other US win came from Webb Simpson and Bubba Watson, winning 3&2 over Sergio Garcia and Alex Noren. The perfect grouping of Molinari and Fleetwood completed their perfect four-and-oh run at the cup with a dominant win over Tiger Woods and Bryson Dechambeau, 4&3, and Justin Rose and Henrik Stenson won 2&1 over Dustin Johnson and Brooks Koepka.
Going into the Sunday singles, the Euros only needed four and a half points to win the cup back, and they exceeded their needs by three. The only halved match of the entire cup came in the second grouping between Paul Casey and Brooks Koepka. In chronological order of tee times, here are the rest of the rest of the match results: Justin Thomas def. Rory McIlroy 1Up, Webb Simpson def. Justin Rose 3&2, Jon Rahm def. Tiger Woods 2&1, Tony Finau def. Tommy Fleetwood 6&4, Ian Poulter def. Dustin Johnson 2Up, Thorbjørn Olesen def. Jordan Spieth 5&4, Sergio Garcia def. Rickie Fowler 2&1, Francesco Molinari def. Phil Mickelson 4&2, Patrick Reed def. Tyrrell Hatton 3&2, Henrik Stenson def. Bubba Watson 5&4, and Alex Noren def. Bryson Dechambeau 1Up.
The biggest storylines of the tournament mostly fall on Tommy Fleetwood and Francesco Molinari. The pair were the second all-time (first for the Europeans) to go a perfect four wins and zero losses in group play, and Fleetwood was the first Ryder Cup rookie to be a part of one of those teams. Yet, Molinari went past that accomplishment, being the first single player to go a perfect five wins and zero losses since the amount of sessions were cut from six to five. The other major storyline from the Ryder Cup were the collective struggles of Phil Mickelson and Tiger Woods. Set to face off in Las Vegas in November, the two (arguably) most popular players in the World finished win a combined zero wins and six losses, with Woods losing four and Mickelson losing two. Phil has been in every single Ryder Cup since 1994, yet this may be one of his last. Originally, Phil wasn't selected to the roster, but was added by Jim Furyk's captain's pick, along with two others. Woods' career record is below .500, yet coming off a Tour Championship victory at East Lake, a lot of people expected Tiger to finish much better than zero and four in the Cup.
The Europeans won 17.5-10.5, keeping the Americans' losing streak in Europe alive. Yet, this year's competition was very exciting, acquiring every single player in the top 10 to play. All congratulations go to the Europeans, more specifically Francesco Molinari for his impressive feats. The Americans have a lot to consider going into next year's President's Cup and the 2020 Ryder Cup.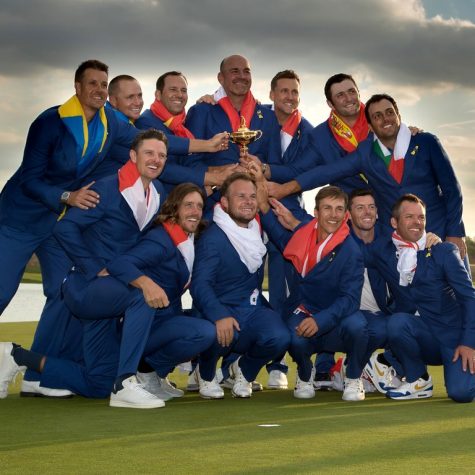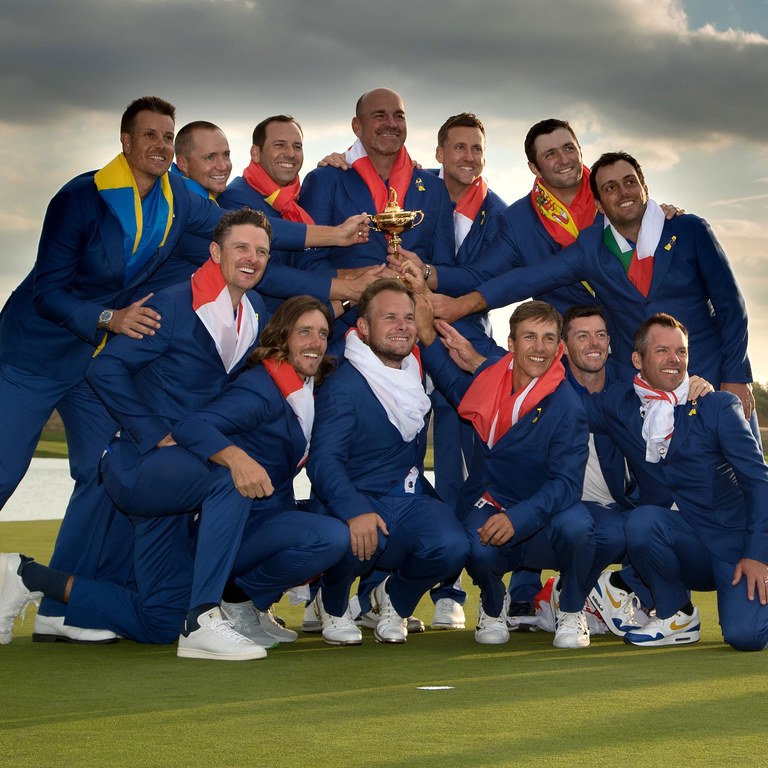 About the Writer
Jacob Myers, Sports Writer
Hi, I'm Jacob Myers, a Senior here at Liberty. I'm a proud Browns, Cavaliers, and Buckeyes fan. You'll see me write about sports on here, and I hope you...