College Football 2018 Preview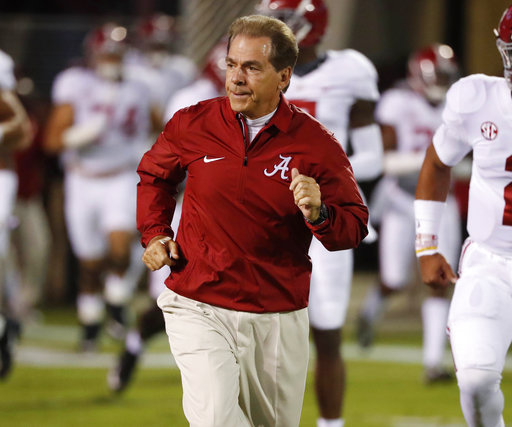 Hang on for a minute...we're trying to find some more stories you might like.
It's Monday Jan. 8 2018. All that's left in the Mercedes Benz Super dome are bits and pieces of confetti and emotions left on the field by the Georgia football players. As Crimson Tide celebrate and indulge in the happiness of accomplishing their season-long goal, the whole state of Alabama is free to call themselves national champions. For the rest of college football, it's about looking forward to next season – reloading and coming back stronger. As teams prepare for the upcoming season, the distant memory of Nick Saban hoisting the trophy is just a reminiscence for the college football world.
A wild offseason of college football brought paid administrative leave for two of the Big Ten's most recognized coaches.
Ohio State's Urban Meyer was publicly under fire when his former assistant coach Zach Smith was accused of domestic violence charges, affairs and other legal offenses. 
Maryland also faces coaching troubles as former redshirt freshman offensive linemen Jordan McNair died following an offseason workout he failed to recover from. He was sent to the hospital and passed away two weeks later in mid-June. The head Maryland athletic trainer was later relieved of his duties. It would be a shame to see these highly coveted coaches lose their jobs at the hands of assistants and trainers. Is it fair for DJ Durkin to get the boot for a poorly handled offseason workout he was not even a part of?
Previews and Predictions are a great way to kick off the season and get the fans pumped up about their favorite teams and players' chances at greatness. Many fans and spectators disagree on what the "perfect playoff team" should look like. Most teams who have made it in the past have had a Conference championship, no more than one loss and atop the strength of schedule. The Playoff teams will be as follows: Alabama, Miami, Ohio State, and Penn State grabbing the infamous fourth spot. Alabama is a given…come on. This is the year that Miami finally has Clemson's number. Mark Richt will make his long-awaited rise to glory by making his first playoff appearance Miami edition. Although Urban Meyer's fate is uncertain, this will not stop the high powered Buckeyes team returning all but one starter J.T Barrett. Dwayne Haskins taking the reigns is not a bad gig for Ohio State. As long as he has outside talent to get the ball to, along with a defense that has his back, it will make things much easier for the Buckeyes to make their third playoff in five years. Last but not least, Penn State will sneak into the final playoff spot. The Nittany Lions Senior quarterback, Trace McSorley, gives off a Baker Mayfield vibe. These playoff predictions could be all wrong, but it's interesting to have some fun with them. Heisman finalists will be West Virginia quarterback Will Grier, Stanford running Bryce Love and the Nittany Lions key leader Mcsorley. When it is all said and done, Will Grier will bring home the Heisman Trophy to Morgantown.
For some teams being a National Champion is just a dream. For the Crimson Tide, it's an expectation. Teams across the country are preparing to take down the beast that is Alabama. Nick Saban sits high atop his throne of College Football because in this day and age, it's not just his football team, or his state in Alabama, but his whole kingdom of College Football. As many programs and coaches reach for his crown, it seems more and more distant of a thought that anyone will catch him. He seems pretty comfortable up in that throne, and it doesn't seem like much of anything will be changing in 2018.